An important part of overall health, is healthy digestion, and there are many ways to address this.
Eating foods which are easier to digest means more of the nutrients in food will be absorbed by the body, rather than simply passing through.
One type of food which has many benefits, aside from just being easy to digest, are sprouted grains.
Keep reading while we take a look at why you should consider adding sprouted grains to your diet.
What Is A Sprouted Grain?
Sprouted grains are exactly what they sound like – grains which have just began to sprout.
Not just a seed anymore, but not quite yet a full new plant, these grains fall somewhere in the middle.
They carry the nutritional benefits of whole grains, however, are also much easier for your system to absorb.
Are Sprouted Grains Healthier Than Regular Grains?
So you've probably heard of whole grain bread.
And you likely know that whole grain bread is considered healthier than white bread.
But where do sprouted grains fall?
Containing many of the same nutrients as regular grains, including B vitamins, folate, fibre, and vitamin C, sprouted grains are very nutritious.
However they do much more than regular grains.
For people who have allergies or sensitivities to grains, sprouted grains may be easier for the body to handle.
Additionally, through the sprouting process, certain vitamins become more bioavailable – namely vitamin C.
Health Benefits Of Sprouted Grains
There are many benefits to choosing sprouted grain bread over other types of bread on the store shelf.
Keep reading to learn more about some of the many great reasons to choose sprouted grains.
1. Higher Nutritional Value
The nutritional value of sprouted grains are higher than grains which have not sprouted, and there is a lot of science to back up this claim.
An article in the journal Critical Reviews in Food and Science Nutrition found sprouting grains increases the amounts of enzymes, essential amino acids, and B-vitamins.
Additionally, sprouting decreases starches.
Another study, this one in 2013, showed than when germinated, brown rice is higher in protein and fibre.
Sprouted grains have also been shown to have higher levels of folate, and more antioxidants, according to articles in the Journal of Agricultural and Food Chemistry and the Internal Journal of Food Sciences and Nutrition, respectively.
2. Lower Antinutrient Value
So you probably have a decent idea of what a nutrient is – substances our bodies use to survive and grow.
Antinutrients, on the other hand, diminish the absorption of nutrients and minerals in our bodies.
Too many antinutrients in our systems can lead to deficiencies.
Phytate is an antinutrient found in plant seeds.
When seeds are sprouted, the phytate is degraded, reducing the antinutrients in seeds.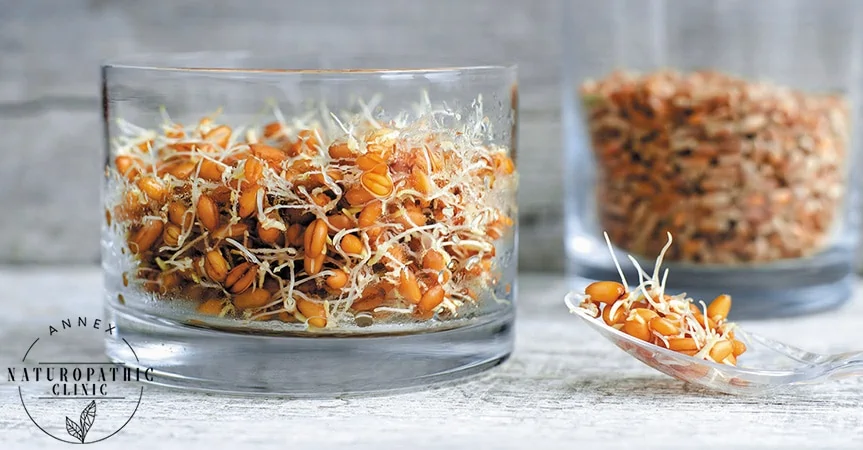 3. Lower Gluten Levels
Gluten-free diets seem to be trendy these days.
For people with Celiac disease, avoiding gluten is a must.
Many people who don't have Celiac, however, are making the choice to reduce the amount of gluten in their diets.
Sprouting grains can lower the gluten content in wheat by as much as 47%, which means they may be easier for people with gluten sensitivity to tolerate.
4. May Aid In Weight Loss
Due to the breakdown of starch in grains caused by sprouting, sprouted grains are lower in carbohydrates than other types of breads.
A 2012 study in the Journal of Nutrition and Metabolism looked at the response of glucose and insulin levels in overweight men who ate various types of bread.
In this study, consuming sprouted grain breads was found to lower blood glucose levels, as they are lower on the glycemic index than other varieties of bread.
Based on this research, replacing other types of bread with sprouted grain bread may help you to lose weight.
5. Easier To Digest
When grains or seeds are sprouted, the process breaks down starches in the grains, making them more digestible.
Additionally, sprouted grains have higher enzyme levels, which help your body digest foods.
They are also lower in lectins. Lectins are an organic protein naturally occurring in many plants, which is a part of their natural defense mechanism.
Research is revealing the presence of lectins in your body may lead to inflammation, and have been linked with a number of chronic health conditions. This includes celiac disease, rheumatoid arthritis, and diabetes.
When a seed sprouts the plant metabolizes lectins, which makes them easier to digest.
Book An Appointment At Annex Naturopathic
Do you have concerns about your digestive health?
Are you worried that you might have a disorder which is affecting your digestion?
Perhaps you are developing reactions to foods which have never bothered you in the past.
Whatever your issue, Annex Naturopathic is here to help.
Contact us today and y our naturopathic doctor will work with you to develop a treatment plan to get you feeling your best again.