Are you dealing with chronic pain somewhere in your body, and haven't been able to find relief?
Recovering from an injury and need support to get back to your normal self?
Are you struggling with anxiety or depression, including in relation to a current or recent pregnancy?
Is your newborn having difficulty latching?
Have you been everywhere else and can't seem to get to the root of the challenge you are having?
Do you have trauma that is limiting your life experience?
If so – Osteopathic Manual Therapy may be a wonderful modality to add to your health team.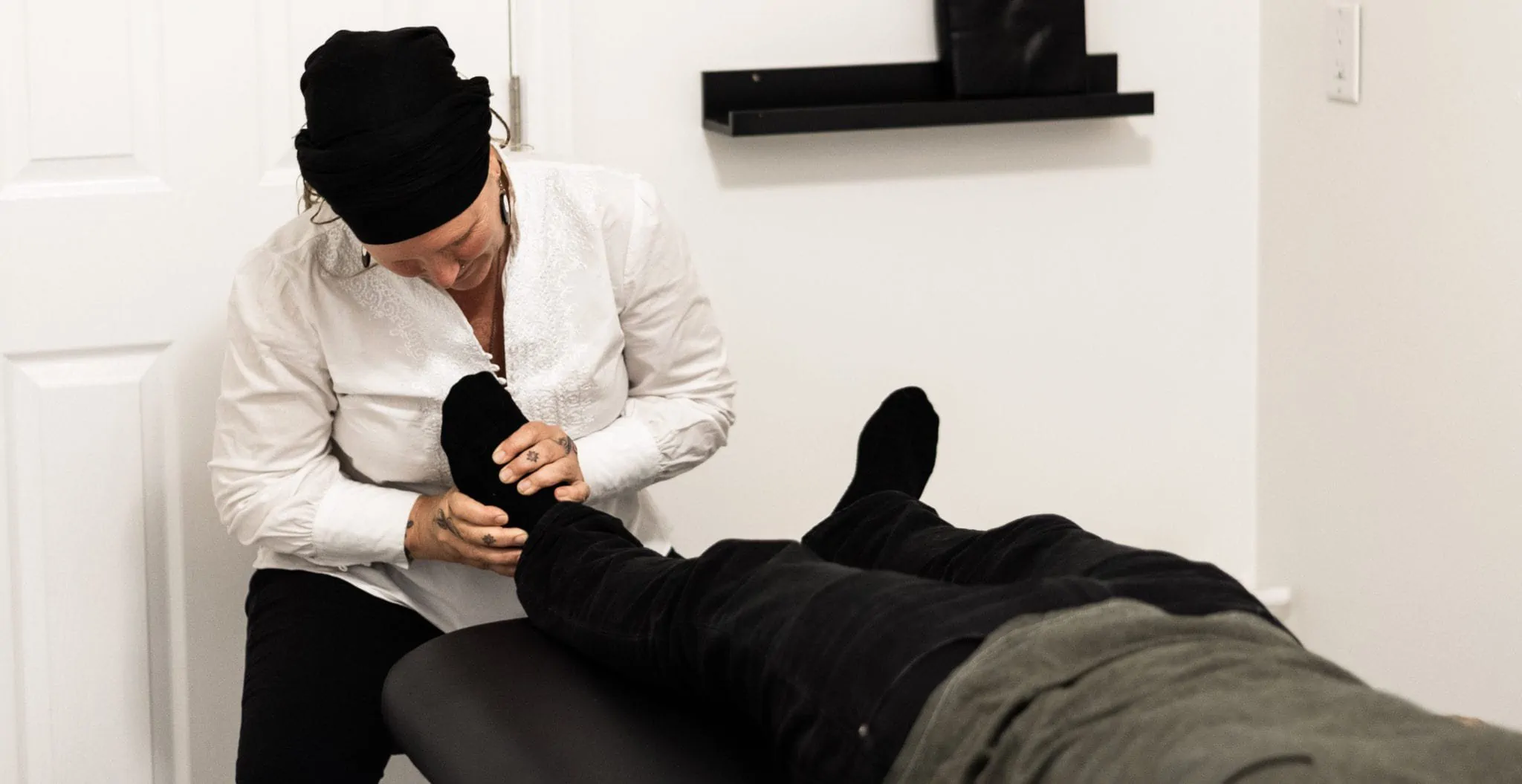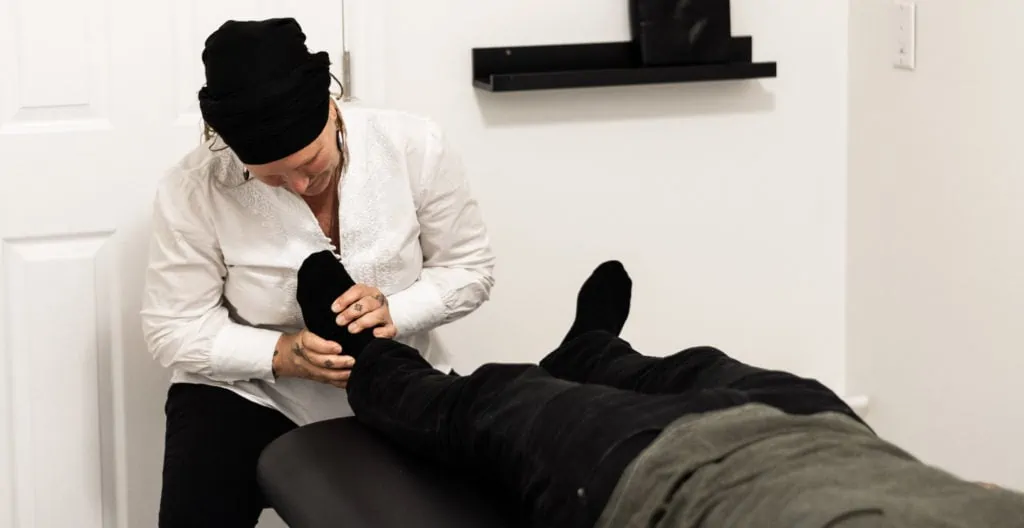 What is Classical Osteopathy?
Classical Osteopathy, also known as Osteopathic Manual Therapy in Canada, is the practice of manual therapy according to the original methods of Dr AT Still. Classical Osteopathy involves manipulation of the body to assess and treat the movement, quality and tone of the joints, hard tissues and soft tissues of the body.
It is a manual therapy that addresses the whole body, particularly the inter-relatedness of all structure and function. An Osteopathic Manual Therapy Practitioner has a comprehensive knowledge of the functional sciences of the human body.
This form of manual therapy can address imbalance in the body, can alleviate pain and can alleviate suffering. An Osteopathic Manual Therapy Practitioner is frequently also referred to as a "mechanic, plumber and electrician of the human body"
Book a Consultation Today
Find out how our experienced OMT practitioner can help. Book your appointment today!
Book Your Appointment Now
How Does Classical Osteopathy Differ From Other Forms of Manual Therapy?
Classical Osteopathy sees the human body as a whole, inter-related dynamic unit of being. For instance, if you arrive with a shoulder injury – your whole body will be assessed and treated, as your Osteopathic Manual Therapy Practitioner addresses the root and cause of your injury. Other forms of manual therapy may only address the symptoms at your shoulder.
Classical Osteopathy operates by principles not by techniques or formulas for a specific injury. Techniques are learned in the educational process, and they are applied to the mechanical and biological principles governing the growth, evolution and recovery of the human body.
This means that each person is treated as the individual they are, with their unique anatomical, structural and functional variations.
Unfortunately, there are some short programs and workshops that teach other health practitioners "Osteopathic technique". With technique only, the health practitioner may not fully understand all functional implications for the actions they are doing with the body.
Your Osteopathic Manual Therapy Practitioner at Annex Naturopathic Clinic will be able to inform you at any moment – exactly what they are doing with your body, why they are doing it and help you understand how you will integrate and process your unique treatment.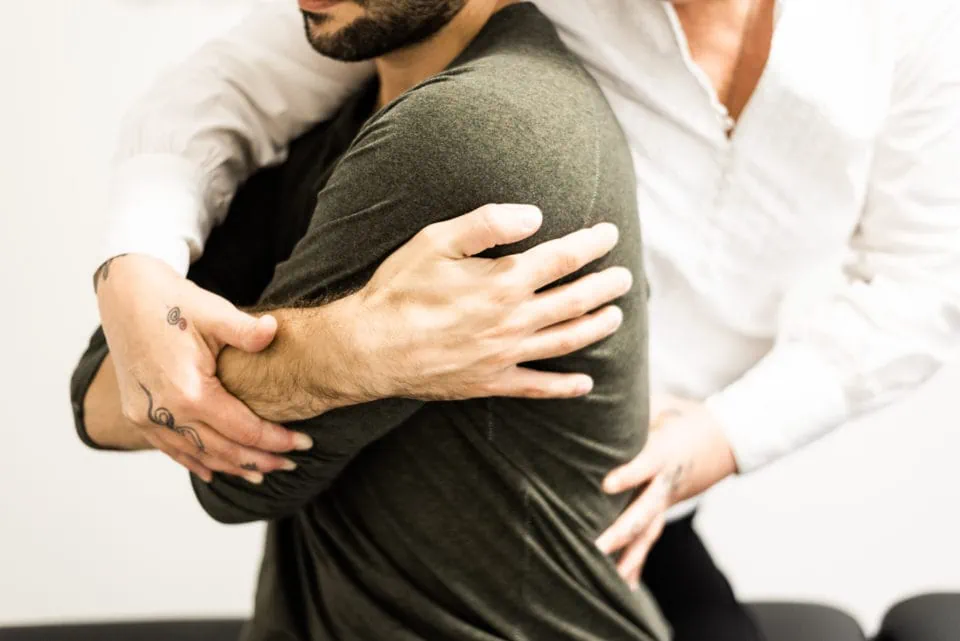 What are the Benefits of Osteopathic Manual Therapy?
The benefits of Osteopathic Manual Therapy are vast.  As each individual has unique qualities and characteristics, so too does a person's experience with Osteopathic Manual Therapy.   Many people leave an Osteopathic Manual Therapy session, in general, feeling lighter, more open, less pain and more connected with their body.  Here we describe some of the benefits our clients have experienced.
Improved Range of Motion and Movement
Osteopathic Manual Therapy treatment works toward improving joint mobility, as well as flexibility and elasticity of soft tissues. Our clients have mentioned easier movement, better recovery from injuries and better ability to perform daily activities.
This form of manual therapy efficiently and effectively works through the layers of restrictions and compensations that occur in chronic illness and chronic pain.  Patients often describe a new freedom of movement and more energy, being able to return to activities they thought would never happen again.
Better Posture
Pain, chronic injuries, chronic illness, sedentary work, hard labor, use of technology can all create situations where we end up in poor posture, no longer being able to hold our body upright.
Our Osteopathic Manual Therapy Practitioner will educate you on the basics of how you can help your body – providing you with easy exercises you can implement on a daily basis. These exercises will assist you to better integrate/process your Osteopathic Manual Therapy treatments and help you improve your vitality and constitution – your ability to self-heal and self-regulate.
Optimizing your body alignment has functional benefits in your body – it can help make all your systems and processes work better. It can help you feel better – in your body, in your mind and with your mood or emotional expression.
Stress Reduction, Relaxation and Nervous System Regulation
There are many things in life that contribute to the experience of stress and the inability to recover from stress. As an electrician, your Osteopathic Manual Therapy Practitioner has an extensive knowledge of the function of the nervous system, and how to assist it in its decompression and regulation.
Gentle manipulation and mobilization of tissues can soothe the nervous system and promote recovery from stress and relaxation. Mental and emotional stress can create tension and chemical changes in the body. As your Practitioner targets areas of tension, function may improve, reduction of stress can occur and you may feel an overall sense of relief and relaxation.
Trauma Resolution
When overwhelming events occur repeatedly, and a person does not fully recover from the events, trauma occurs. Trauma can also occur with a single forceful life experience. Sometimes trauma patterns and memories can get locked in the body.
The Osteopathic Manual Therapy Practitioner here at Annex Naturopathic Clinic has unique experience in helping the body release these trauma patterns, while helping your mind understand what is happening in your body and why it is happening. This form of assistance with trauma resolution is sometimes called somato-emotional release, meaning body and emotional release.
Pain Relief
Osteopathic Manual Therapy can help decrease the feeling of pain in various parts of the body including the back, shoulders, neck, hips, joints and muscles. This therapy focuses on the root and cause of the pain. For example, muscle tension, joint immobility, joint or tissue inflammation. For people with chronic pain, this type of therapy can help you better manage the pain, while you work towards pain relief. Sometimes pain may increase before it settles to a new decreased level. You will receive information on why this is occurring and how you can help yourself through this phase of your healing journey.
Healthy Pregnancy
Ensuring your body is in the best mobility and best health possible before pregnancy can help you become pregnant and have a healthy pregnancy and delivery. During pregnancy, Osteopathic manipulation can assist with the changes the body naturally goes through. Osteopathic manual therapy can help alleviate discomfort, ensure back, pelvis, neck and shoulders have good mobility. It can help the presence of symptoms such as digestive discomfort, constipation and challenges with breathing.
Improved Circulation and Lymphatic Drainage
Osteopathic treatment helps to regulate blood flow and lymph flow in the body. The 'plumber' of the body uses a whole body approach whereby circulation and drainage can be improved. Good circulation is important for getting nutrients and building blocks into cell tissues, and getting wastes out of the tissues and out of the body. By improving lymph flow, the immune system and the detoxification systems of the body can function better.
Support for Musculoskeletal (MSK) System
Osteopathic Manual Therapy Practitioners, or mechanics are the 'original' athletic therapists, dating back to the early 1900's. Techniques used by athletic therapists and physiotherapists are often osteopathic techniques. The difference is osteopathic treatments will address all related structures to an area of the body. It can be valuable support for recovery of MSK injuries, repetitive strain injuries, arthritis, degenerative joints, growing pains, acute and chronic situations. Osteopathic Manual Therapy is beneficial for all levels of athletes in sports, dance traditions and martial arts traditions.
Chronic Pain and Chronic Illness Support
When pain or imbalance is present in the body for more than 6 weeks, the condition is now perceived as being chronic (occurring over time). Sometimes, people will have a challenge that is present for years without resolve. Osteopathic Manual Therapy treatment is particularly useful for working through the many different compensation layers that develop with chronic pain or chronic illness. Our Osteopathic Practitioner at Annex Naturopathic Clinic is well versed in helping people feel better, function better, understand what is occurring in their body, manage daily activities in new ways and regain a vital life.
Maintain Better Physical Wellness
Book a consultation with our experienced OMT practitioner. Book your appointment today!
Book Your Appointment Now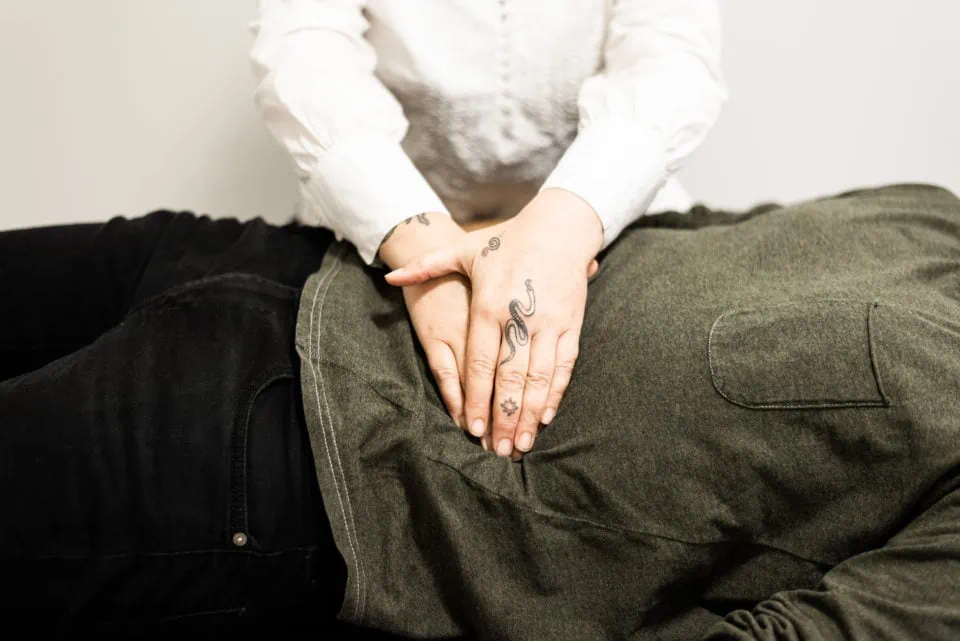 Conditions We Treat
Our Osteopathic Manual Therapy Practitioner has over 30 years of experience in body work using an integrative and whole body approach. The variety of conditions treated is endless. Examples of types of conditions treated are:
Back, spine and neck pain
Concussion, post – concussion, ABI (acquired brain injury), TBI (traumatic brain injury)
Repetitive strain injuries, sports injuries including amateur, weekend warriors and professionals
Injuries related to dancers, performers, musicians, movement and martial arts
Shoulder and hip pain, arthritic pain
Headaches, Migraines and Epilepsy
Acute injuries
Chronic Pain and Chronic Illness
Body responses related to Mental and Emotional Health
Pregnancy discomfort, aches and pains
Pediatric – newborn, caesarian, youth
Sex challenges – vulvodynia, erectile/ejaculation and orgasm challenges
Sciatica, nerve pain, numbness and tingling
Body responses with cancer treatment, immunotherapy treatment
Menstrual challenges including endometriosis
Auto-immune conditions
If you are unsure if your situation can be helped, feel free to call for a free consultation.
Treat Your Condition Naturally
Book a consultation with our experienced OMT practitioner. Book your appointment today!
Book Your Appointment Now
What to Expect During an Osteopathic Manual Therapy Session
Initial Assessment
Your Classical Osteopathy journey begins with an initial assessment. You are asked to complete an online form prior to your first appointment. In your first appointment you will be asked questions about the details of what you are experiencing, your history and relevant health information to your unique situation. This helps your Osteopathic Practitioner better understand your unique needs.
Depending upon the complexity of your condition, you may not receive physical assessment or treatment on your initial session. You are encouraged to bring something to take notes with, as your Osteopathic Practitioner will send you home with things to do to improve your health (which helps you integrate and process treatments), to help yourself and to build a better relation with your body.
Physical Assessment
Your Osteopathic Manual Therapy Practitioner, in Canada, does not perform a physical medical examination. Rather, they assess the physical status of your body in many ways including: observation, palpation (touching the body), and manipulation (moving the joints and tissues of the body). Your initial physical assessment will include posture assessment, movement assessment and an initial general treatment. This allows the Osteopathic Practitioner to identify areas of dysfunction, imbalance, sensitivity, weakness and lack of mobility.
Every session will include on-going physical assessment, treatment and re-assessment – to ensure the Osteopathic Practitioner achieved the goal of helping your body make change.
Osteopathic Manual Therapy Techniques
Classical Osteopathy does not practice techniques in isolation. Your Osteopathic Manual Therapy Practitioner will be guided by your body to provide the best techniques in the most appropriate process and timing to stimulate and make advantage of your ability to self heal and self regulate. Osteopathic processes include attending to texture and tension of the various tissues of the body, asymmetry, responsiveness, coordination and range of motion. An Osteopathic Manual Therapy Practitioner magnifies the power you have within your body through:
an understanding of the universal principles of operation of the human body
using processes for complete exploration and assessment of your full body
choosing unique applications of techniques to you as an individual
effect change in the tissues and joints
Communication and Feedback
At Annex Naturopathic Clinic, your Osteopathic Practitioner will have a communication style that fits you as an individual. It is a part of what is determined in the first few sessions. You will be educated about what is occurring in your body and why you are experiencing what you are experiencing. If you have feedback you wish to provide it will be openly received. If you have any questions about your treatment or your body, they will be answered. If you wish to have a silent treatment – that can also be accommodated.
Post-treatment Recommendations
Osteopathic Manual Therapy Practitioners in Canada are not specifically educated in post treatment recommendations. This is developed with the previous training of the practitioner and through further education, certification and experience. At Annex Naturopathic Clinic, our Osteopathic Manual Therapy Practitioner also has training in Indigenous and Integrative Medicine, Human Performance, Mental Health, Trauma Resolution, Athletic Therapy combined with over 40 years of experience in rehabilitative sciences. She understands your body is doing all the self healing and self regulating, and if you (your mind) helps your body, your outcomes exceed expectations.
Be sure to have something you can take notes with as you will be provided recommendations that may include lifestyle changes, best health practices, exercises or stretches, movement, self care strategies. You will learn to be your own best advocate.
Book Your Consultation Today
Book a consultation with our experienced OMT practitioner. Book your appointment today!
Book Your Appointment Now
Questions about Osteopathic Manual Therapy
When to avoid Osteopathic Manual Therapy?
The time to avoid Osteopathic Manual Therapy is when direct medical attention is required for an accident, injury or illness. Otherwise, the hands of a good practitioner of Classical Osteopathy can be a great addition to your team to help you improve in ways you never thought possible, or faster than you could have imagined.
You will be asked to:
not have other treatments on the day you have Osteopathic Manual Therapy, to avoid over-treatment
space out treatments you have in multiple modalities, to help you integrate and take the best advantage of all the treatments and modalities you are using
not have osteopathic treatment on a day you receive an injection, to provide your body time to process
How can Classical Osteopathy help my surgery?
Having Classical Osteopathic treatment prior to your surgery can help you be in the best place possible for your surgery and can assist with decreasing your recovery time. In Canada, Osteopathic Manual Therapy Practitioners must wait 6 weeks until your stitches (or broken bones) are healed, or until you receive the medical okay for physical manipulative treatment.
Having Classical Osteopathic treatment post surgery can help you get back to full movement faster and with more confidence in your abilities.
Are there any risks associated with Osteopathic Manual Therapy?
As with anything in life, there is always a risk. Manual Therapy – or manipulation of your body – involves moving tissues and joints. Your Osteopathic Practitioner is highly skilled in functional anatomy, functional neurology and functional physiology. Saying this, there are well-developed and challenging people in every field. Knowing your practitioner's skill set and training – finding a practitioner that is a good fit for you – will help decrease any risk you may encounter. Knowing what your Osteopathic Practitioner can help you with and what they cannot do – will help you understand their role as a part of your health team and decrease any risk of overwhelm or 'failure' in treatment.
Sometimes, in treatment, particularly in cases of chronic neurological pain, chronic inflammatory pain and chronic illness, a person can feel worse or experience an increase in pain before it decreases to an even better level than prior to treatment. When receiving Osteopathic Manual Therapy treatments for an old injury, you can sometimes have bruises or other skin reactions that reveal themselves as a part of the healing process. Your Osteopathic Practitioner at Annex Naturopathic clinic is well versed in a variety of experiences and can provide you with an understanding of what is happening, why it is happening and how to best manage your experiences on your way to being your best.
What Can I Expect during an Osteopathic Treatment Follow up Session?
Follow up sessions will include a discussion to update your Osteopathic Practitioner on how you are doing and how things have been going. Treatment will then occur involving assessment, adjustment and re-assessment; You may be asked to be in several different positions including: standing, sitting, and lying down (on your front or back or side).
In Canada, you will always have your clothes on during an Osteopathic Treatment. Your body will be palpated (touched) and moved around). Therefore, it is a good idea to wear loose clothing.
You may have questions which will be answered. You may be given suggestions for things you can do outside of your Osteopathic session. It is a good idea to have something you can take notes with.
At Annex Naturopathic Clinic, if your session is shorter than the allotted time you are charged only for the time used.
Improve Your Health with Osteopathic Manual Therapy
At Annex Naturopathic, our osteopathic manual therapy approach is designed to address your whole body, rather than just individual, symptom or area based issues. Your OMTP will work with you to discover the root cause of your health experience and provide you with treatments designed to get you feeling great once more.
Contact Annex Naturopathic to book a consultation, and find out more about how classical osteopathic manual therapy can help you with your unique health needs.