Looking up at the wall of health supplements at your local health food store can be enough to make your head spin.
Sure, there are the vitamins and minerals to consider – those can be complex enough on their own.
But then, throw in all the other supplements. Glutathione? Omega-3's? Polyphenols? What is all this stuff?
We've covered each of the above compounds in the past, to help you get a better understanding of how they can influence your health.
Today we'll take a look at GABA.
What Is GABA?
GABA stands for gamma aminobutyric acid – you can see why abbreviating the word here is important.
It's an amino acid. There are many different amino acids, and they each do something a little different in your body.
However, they all have in common the fact that they serve as the building blocks of proteins.
Since many of your body's most important elements are made of proteins – including many of your hormones – these amino acids are critical for life.
GABA's unique role is to act as a neurotransmitter in your brain.
It inhibits brain signals, decreasing activity in your nervous system. This has the effect of helping keep you calm.
Sources Of GABA
Your body naturally produces GABA on its own, but it's difficult to get GABA directly from your diet.
The only readily available sources of it come from fermented foods like kimchi and tempeh.
As a result, it's most commonly taken as a supplement.
Health Benefits Of GABA
Aside from the calming effect mentioned above, GABA has a number of health benefits.
Read on to find out more.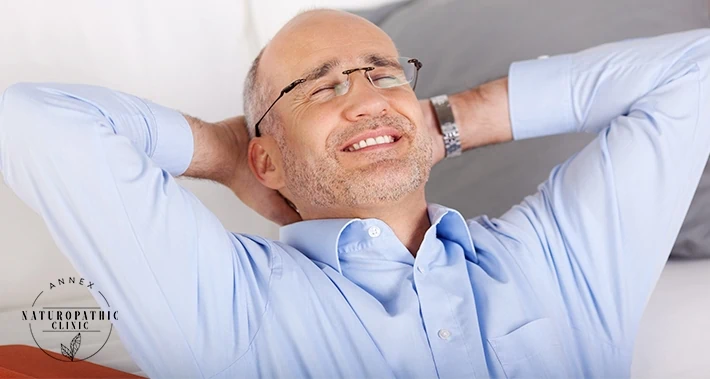 1. May Help With Insomnia
Because of GABA's calming effect, researchers have focused on its effectiveness as a remedy for insomnia.
A 2018 study by Jung-Ick Byun Et Al studied 40 patients with insomnia, and provided them with either GABA supplements or a placebo.
They concluded that GABA supplements significantly improved the insomnia within the control group, and recommended its widespread use in the general population.
If you're looking for a natural solution for insomnia, GABA might be the solution for you.
2. May Reduce Anxiety
Research on how GABA can affect anxiety is still ongoing.
Because of its role as a sleep aid, it's thought GABA can help relieve anxiety as well.
The question, though, is how effective supplemental GABA is at getting to your brain via your bloodstream.
However, initial studies show promise.
3. May Help With High Blood Pressure
Again, GABA's benefit with reducing high blood pressure ties back to its benefits for sleep.
One of the common symptoms of insomnia is high blood pressure, so in some cases solving one will solve the other.
Additionally, a 2018 study by Chen Et Al found that treating high blood pressure rats with GABA tea had a positive effect.
4. May Help Relieve PMS Symptoms
If you suffer from PMS, you'll experience a variety of mood fluctuations, including irritability and emotional instability.
Part of this is due to hormonal fluctuations. After menstruation ends, your body will increase estrogen production in order to re-line your uterus.
About halfway through your cycle, though, your estrogen levels will begin to decrease, while your progesterone increases. It's the spike in progesterone that can lead to your mood changes.
However, your neurotransmitter levels will also fluctuate, including GABA. Supplementing your GABA levels may help you relieve your PMS symptoms.
5. Other Possible Benefit
Research is still ongoing into the other potential benefits of GABA. If you're dealing with one of the following conditions, it may help:
Motion sickness
Cerebral palsy
Cushing's disease
Huntington's disease
Meningitis
Seizures
ADHD
Pain relief
Weight loss
Side Effects Of GABA
Because GABA is a substance your body naturally produces, it's likely safe to supplement with.
However, there are some reported side effects.
The one that should come as least surprise is drowsiness. Avoid taking GABA before driving or operating any heavy machinery.
Beyond that, though, you may also experience an upset stomach, minor headaches, or muscle weakness.
Studies on how GABA interacts with other medications or supplements are limited as well, so if you're planning on adding GABA to your routine, be sure to speak with your naturopathic doctor first. The same goes for if you're pregnant or breastfeeding.
Book An Appointment With Annex Naturopathic
Are you having trouble sleeping?
Dealing with frustrating PMS symptoms?
Does GABA seem like a useful way to relieve your anxiety and improve your quality of life?
If so, book an appointment with us here at Annex Naturopathic.
You'll get a chance to sit down with a naturopathic doctor and discuss your health concerns. From there, we'll help you decide whether GABA, or another naturopathic service, is right for you.
Insomnia can be a crippling condition to deal with, but there are natural solutions available which may help.
Book your appointment with Annex Naturopathic today.