Frozen Shoulder is the common name for a medical condition (adhesive capsulitis) where the shoulder joint does not move and may cause pain, as a result of inflammation. Sometimes health practitioners and people use the term 'frozen shoulder' when the shoulder doesn't move for other reasons.
In this article, we will review general concepts of frozen shoulder, an osteopathic perspective of frozen shoulder and how to help yourself when you have a frozen shoulder.
What is a Frozen Shoulder?
The medical definition of adhesive capsulitis (frozen shoulder) states it is a condition of inflammation of the glenohumeral (GH) joint (where the arm meets the scapula), characterized by stiffness, limitation of motion and pain. The symptoms can begin slowly – occurring occasionally.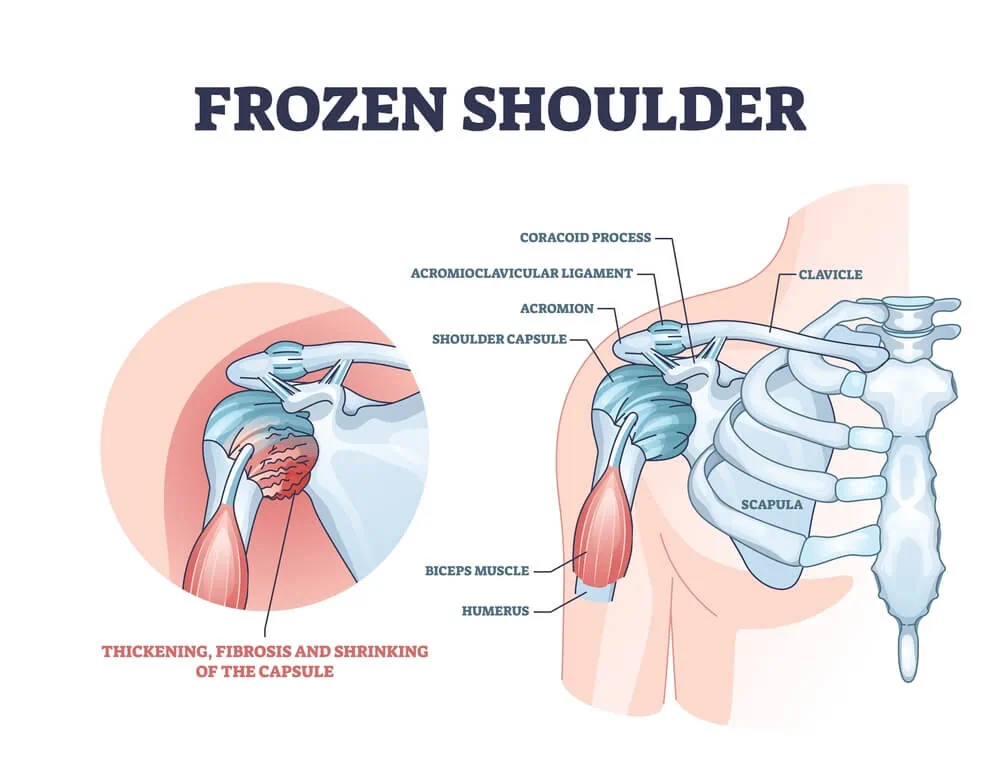 They gradually build until the shoulder doesn't move much, the range of motion is significantly reduced and moving the shoulder results in significant pain. At this point, the joint capsule, muscles, tendons and ligaments around the joints are impacted.
From a Classical Osteopathy perspective, since the body is a dynamic integrated unit of being, other areas connected to that specific shoulder joint can also be affected by the joint not moving. Circulation can be restricted to the area and nerves can be irritated in the area.
Various medical perspectives suggest with treatment frozen shoulder symptoms can get better within 1 – 3 years. You may find this time frame decreased with Osteopathic Manual Therapy treatment.
What Causes Frozen Shoulder?
The causes of frozen shoulders are as varied as the people having frozen shoulders. A medical frozen shoulder occurs when the joint capsule of the GH joint becomes thick, has inflammation, and tightens around the joint. This limits the motion in the joint. Some people call a situation frozen shoulder when other parts of the shoulder are not moving as a result of tightness in muscles, tendons and ligaments.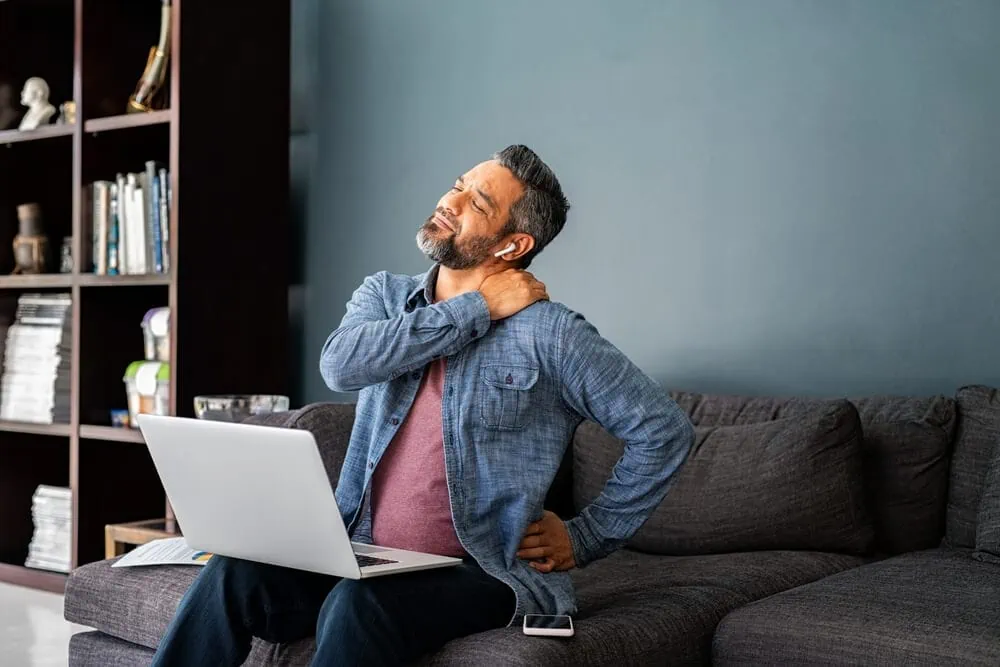 People with a complex medical history that affects the quality of these tissues are at higher risk for adhesive capsulitis. This includes conditions like diabetes, cardiovascular disease, thyroid disease and movement diseases. Being sedentary or having old injuries can increase your risk of a frozen shoulder. Some people have frozen shoulders without any predisposing factors.
Is There a Treatment for Frozen Shoulder?
The simple answer is yes. Cure means to relieve the symptoms or condition (disease or illness) that is present.
If you don't change the factors that led to your frozen shoulder, it will be hard for you to permanently keep the symptoms away. The osteopathic manual therapy practitioner at Annex Naturopathic is trained in many disciplines to provide professional lifestyle advice.
The treatment to heal (restore balance) a frozen shoulder involves your participation.
You may have to change lifestyle habits that contribute to your frozen shoulder.
You may have to change your workstation and/or how you sit at your desk or stand at work.
You may have to do some exercises to help your full range of motion come back.
From an osteopathic perspective – your practitioner is simply the mechanic, the plumber and the electrician of the human body. They can help put the pieces back together, make sure the joints are well lubricated, make sure all the channels/tubes are open and make sure the electrical network (nerves) are talking to each other well.
Your body is the amazing machine that is doing all the work to help you reset, restore and resume function. How your healing happens depends on how you help your body do what it knows how to do.
The 3 Stages and Symptoms of Frozen Shoulder
Osteopathic diagnosis, assessment and treatment provide different information for patients than your medical doctors will provide. Remember an osteopath in Canada is different than an osteopathic manual therapy professional. Below we will use the category combination therapists generally use when referring to frozen shoulder rehabilitation. This applies to the shoulder capsule, bones, joint articulation and shoulder motion – offering individualized treatment options.
Generally, the 3 stages of a Frozen shoulder are:
Freezing
Frozen
Thawing
1. Freezing Stage
Freezing is when the process of a frozen shoulder is beginning. You may have pain sometimes in your shoulder when you move it. You may notice that you sometimes can't move your shoulder well. This slowly gets worse over time. Your shoulder may hurt more when you are not moving.
Examples: You reach to get something in the cupboard and can't reach things as you used to, or have a sharp pain. You wake sometimes up at night because of shoulder pain.
This, generally, can last for 6 – 12 months.
2. Frozen Stage
Frozen is when you can't move your shoulder. You now have stiffness restricting more motion. You may have more pain, achy pain or pain that doesn't go away. You may have less pain and less motion. You have more difficulty moving your shoulder and it is now interfering with daily activities and life.
This is often when people start looking for help. Generally, the frozen stage lasts until you change things or you ask for help to change things (some suggest 4 – 12 months).
3. Thawing Stage
Thawing is when the process of a frozen shoulder is reversing and getting better. You start to have pain relief and no pain. You start to have better motion. Eventually, you regain your full range of motion.
Many people are receiving help or treatment at this stage, such as massage or osteopathic manipulation. You may be doing exercise or stretching. Better circulation and movement of blood mean healing, your symptoms decrease and you regain your abilities. On average, this can take 6 months to a few years.
How Can an Osteopathic Manual Therapy Practitioner Help Treat a Frozen Shoulder?
Osteopathic Manual Therapy is a manipulation approach to help treat frozen shoulder. Your Osteopathic Practitioner will move the joints and tissues of your body to get everything moving again. At Annex Naturopathic Clinic, our Osteopathic Practitioner will also educate you on things you can do to help yourself improve, and to help yourself so this is unlikely to happen to you again.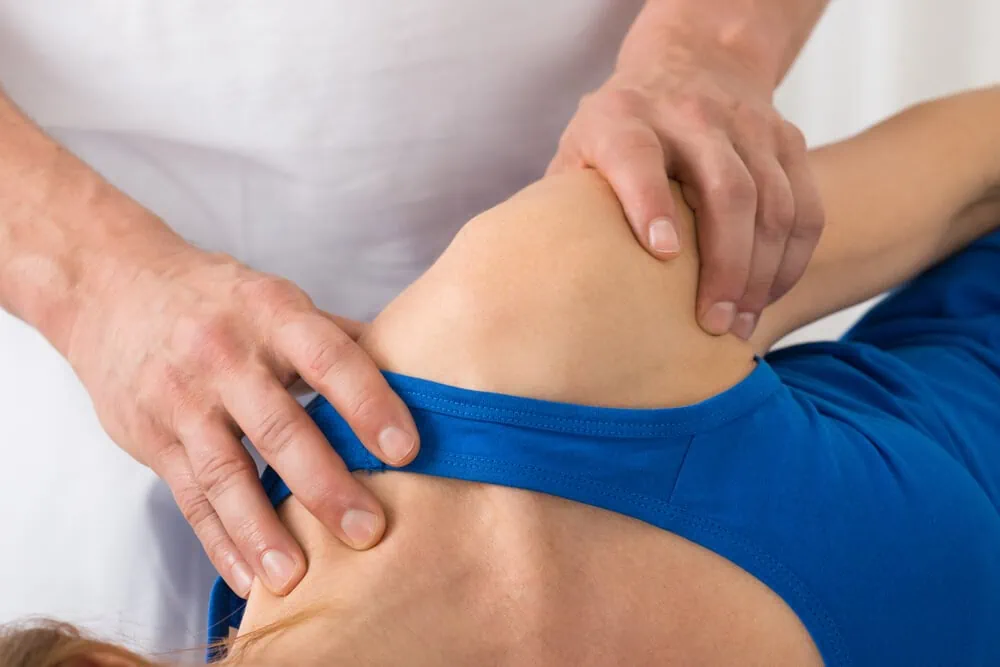 Generally, a Classical Osteopathy treatment approach may help with:
Decreasing the pain
Improving the inflammation
Improving the elasticity and pliability of all tissues
Improving the range of motion of all tissues and joints
The stress and pressure of dealing with your problem
What Makes Osteopathic Manual Therapy Unique?
Your treatment will take into account all the possible factors influencing what your unique cause is.
Your treatment will involve a thorough assessment of the shoulder – and – your head, neck, upper back, chest, ribs, mid-back, lower back, hips and limbs.
Your osteopathic treatment will help you understand and manage the symptoms as your body is changing.
Your treatments could use manipulation and mobilization techniques to improve mobility, fascial release, scar tissue and adhesion techniques, nervous system and circulation techniques. It may include craniosacral and visceral techniques – among many other approaches.
Your treatment will be individualized to you and your body.
How to Prevent Frozen Shoulders?
A few things you can do to help yourself for both prevention and self-treatments are:
Maintain Good Sitting and Standing Posture
If your shoulder is in pain or not moving – do not lie on it. Or if you have to lie on it, make sure it and your neck are well supported with lots of pillows. Practice good posture when you are using a computer, laptop, tablet or cell phone.
Exercise
Move your body – your joints – every day. General activities and a general range of motion daily are very important.
If your shoulder is starting to not move do some simple shoulder, neck and head stretching and range of motion exercises. If you are not sure what to do – get someone to help you.
Consult an Osteopathic Manual Therapy Practitioner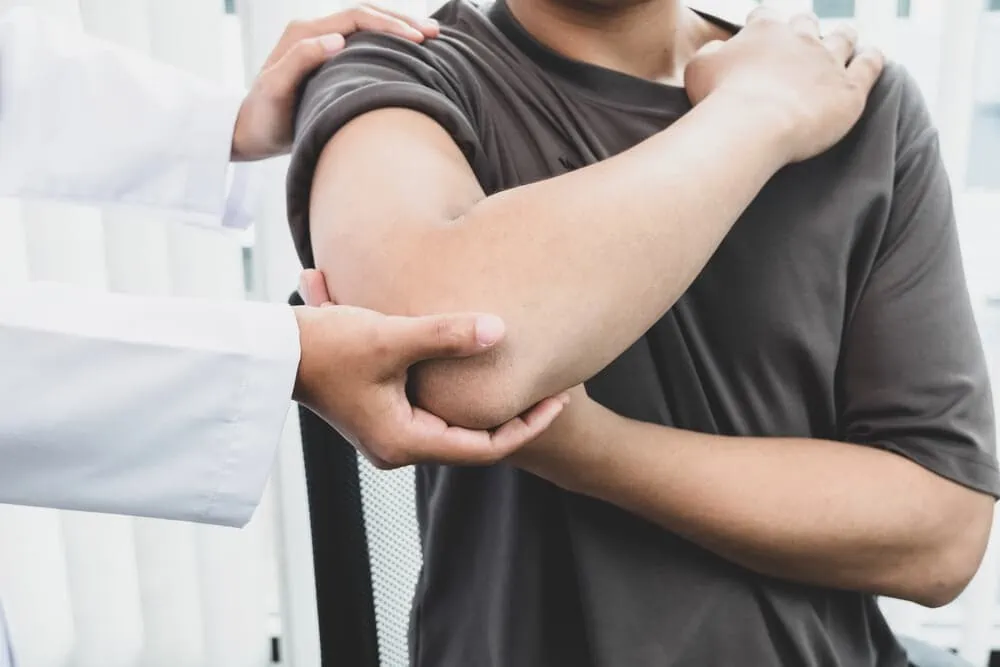 When you are starting to have problems and you can't fix them yourself – take action sooner rather than later to get help. The longer you leave something before getting help, the longer it will take to get better.
Take care of yourself – hydrate well, eat well, and sleep well. This will help you have a healthy immune system and help the regenerative abilities of your body.