Back pain can happen to young and old alike. It can happen to people who are athletic and active, as well as people who don't move a lot and are sedentary. Back pain can be intermittent – it happens sometimes and disappears. Back pain can be lingering – it happens, and stays for a while, before leaving. Back pain can be persistent – it happens, stays for a long time and is present when sleeping. This is often referred to as chronic back pain. People can feel upper, middle and low back pain.

There are many natural approaches to relieving back pain. This article will review information on common causes of back pain and 9 natural ways to achieve pain relief.
What Are the Common Causes of Back Pain?
In classical osteopathy, a whole-body approach, all the root causes of your back pain will be addressed. An osteopathic manual therapy practitioner will provide manipulative treatment to address the structural root causes. This can affect swelling, anxiety, blood flow, spasm, sciatica, strength, energy, tension, severity and side effects of back pain. At Annex Naturopathic Clinic, our osteopathic practitioner will also educate you on self-help strategies so you are better able to help yourself with your back pain.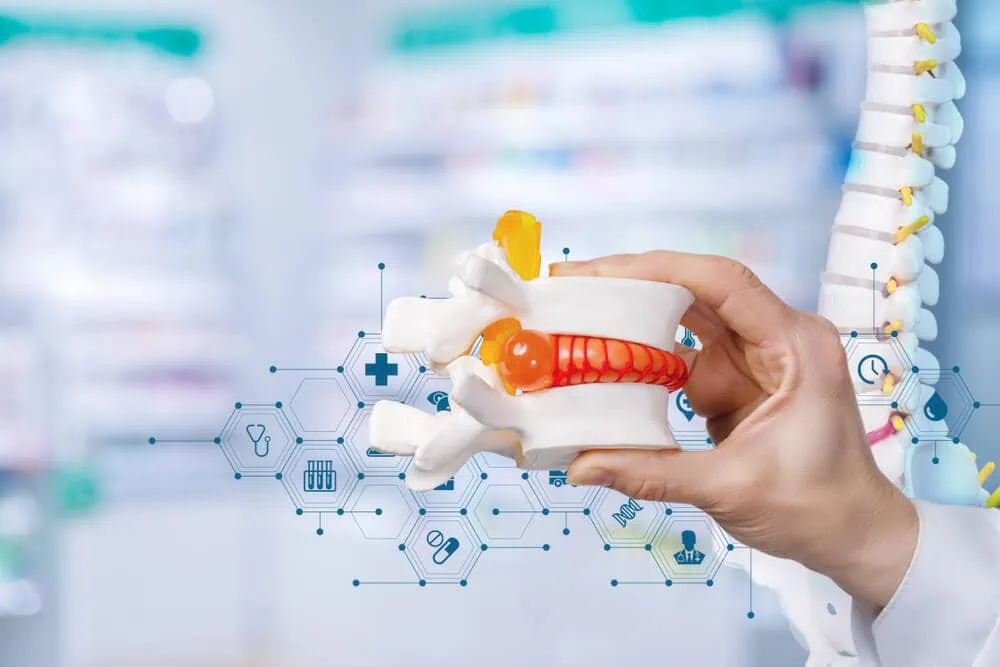 Through lifestyle changes, you will be better able to employ pain management, understand how to use heat therapy, provide self-support and achieve back pain relief. From an osteopathic perspective, there are many common causes of back pain. Previous health conditions, diseases and inappropriate movements can affect mobility, disability, alignment, muscle pain and other pain.
Some examples of the potential associations and causes of back pain are listed below.
Dehydration
When a person is not hydrated properly, they set themselves up for back pain and lingering and persistent pain. At night, when you are sleeping and you are well hydrated, your vertebral discs (the shock absorbers and space creators) in your spine will rehydrate and regain their plump dense natural size. The size of your vertebral discs is important because they help to keep the individual bones of your spine (vertebrae) evenly spaced apart. This stops muscles and soft tissue from being too tight, and nerves from being compressed.
When a person is dehydrated, your vertebral discs don't rehydrate as well and your vertebrae can be closer together – putting you at a higher risk for back pain. When vertebral discs compress, you can feel strains or sprains or sharp nerve pain. When a person is not well hydrated, the products, supplements, medications and remedies they use will not be as effective – as the body needs water to properly process and detoxify these properties for best healing.
Muscle Strain
Muscle strain can happen when the muscles are not strong enough to lift a load in the position the person is in. For example, bending down to pick up a heavy box and twisting on your way up. Muscle strain can also happen when the muscles are tired from overactivity. For example, you have been spring cleaning all day – moving furniture, reaching, bending and lifting in motions you haven't used for a while. Muscle strain can also happen when the muscles are weak and not used to the activity.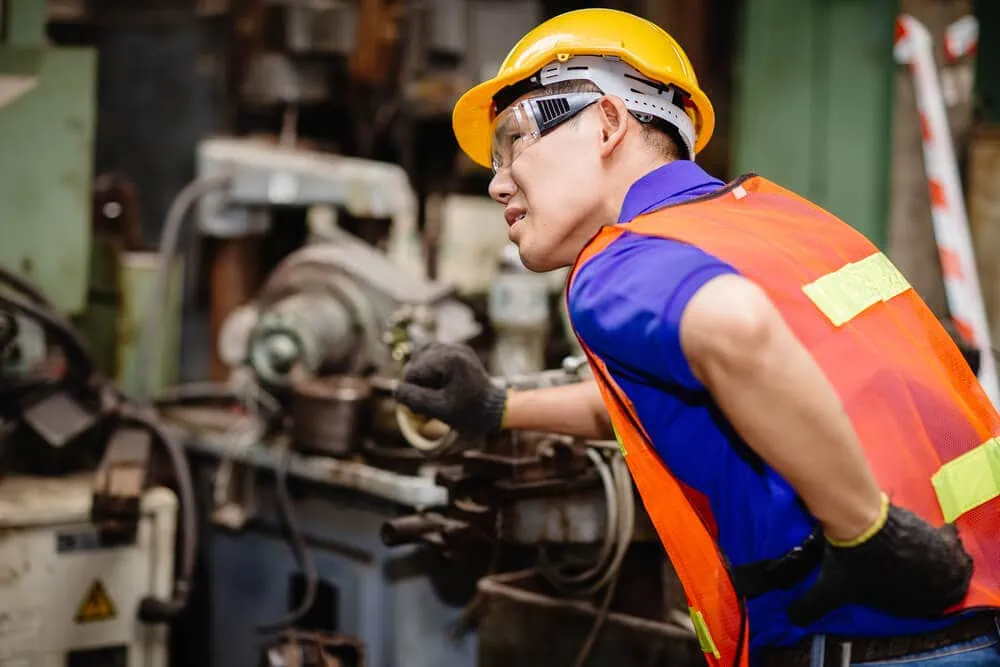 For example, you get stiff and sore on the first day of gardening after winter or shovelling snow after summer. People often feel stiff and sore with a muscle strain. Sometimes the strain can be so bad the muscles have inflammation. Normally, a person will recover from new use or overuse in a day or two.
Sometimes it can take a person a lot longer to recover. Muscle strain can create different types of pain and occur in all back muscles. It can affect the shoulders, hips and feet. Muscle pain can affect neck pain, which can contribute to headaches and back pain. Injury is more likely to happen when muscles are not working at their full strength.
Ligament Sprain
Sprained ligaments can occur in the spine, similar to how they occur in a joint like an ankle. If you are doing a sport with speed, like water skiing or skateboarding, and you have fallen – your body will respond by tightening the ligaments to try to protect you. Depending on how you fall, the speed and force can create a strain on the ligaments.
This can also happen when someone is carrying something in an awkward manner and slips and falls – the weight of what they are carrying pulling them in a strange motion. Sprained ligaments in the spine can feel sore to the touch, painful and cause inflammation. The sprain can affect your alignment, and the pressure you are feeling and influences the effectiveness of treatment options, therapies or stretches you do.
Structural Disc Problems
Strains and sprains are technically structural problems. Dehydration can make structural problems worse. Other structural problems can result from problems with the vertebral discs. Vertebral discs are like jelly doughnuts. They are gel-like in the center and have firmer tissue around the outside. They cushion the space between each vertebra (individual bone of the spine which stacks on one another).
Bulge – When the gel-like center isn't well hydrated, the outside isn't quite firm, or there is a lot of weight on the disc, the space can collapse slightly. The vertebral disc can bulge to the side in any direction, based on the way the vertebrae have moved. This can create muscle spasms and pain.
Herniation – When there is a partial tear or weakness in the outer wall, the gel-like center can push through the outer wall. This often happens in the lower back or the neck and can happen in the upper and mid-back. There is often a sensation of numbness, pain and tingling in the back and running down the leg or arm.
Rupture – Technically, a rupture is a type of disc herniation. This term is used when there is a full tear in the outer wall of the vertebral disc. It can have the same symptoms as a herniated disc and be lingering or persistent.
Back Injuries
Back injuries from sports can include problems that arise from being hit by a person or object, falling, jumping up or down, moving with speed and stopping suddenly, or being thrown from a stationary or moving object. Sprains and strains, as well as vertebral disc problems, can occur. There can also be problems that occur with the vertebra.
Most humans are born with 33 individual vertebrae. As they grow into adults, the lower vertebrae fuse into the coccyx and sacrum, leaving approximately 24 individual vertebrae.
Although these vertebrae are designed to be quite flexible, adaptable and able to move in many directions, a significant force or an unusual force can create damage to the vertebra.
Structural damage to vertebrae can include:
Stress fracture
Break
A vertebra moves out of place and onto another vertebra (spondylolisthesis)
Squeezed close together on one side
Rotated on one side
Since sensory (sensations/feelings) and motor (action) nerves come in and out of the spine, structural damage can lead to a variety of symptoms including altered sensation, altered function and pain.
Arthritis
Arthritis is a condition where an inflammatory condition (-itis) is occurring in the joints (arthr-). Osteoarthritis is inflammation in the bony joints. Rheumatoid arthritis is an auto-immune condition that may require a combination of therapies. Inflammation is "nature's band-aid" and is called by tissues of the body to help them heal, regenerate and stay protected. When inflammation doesn't leave after its job is done, or the body can't get the job done and inflammation stays – it can create problems in the bone, joints and soft tissues.
There can be deterioration of the cartilage, ligaments and small muscles of the back. With time, there can be a narrowing of the spinal column (spinal stenosis). People often experience different types of pain with these issues.
Osteopenia or Osteoporosis
Sometimes the bones in the body have difficulty maintaining their density and their mineral content. As this happens over time, the bones begin to weaken and thin. When the bones begin to lose their mineral content and start to become weak, it is referred to as osteopenia. As this progresses and the bones continue to weaken and get thinner, it is referred to as osteoporosis. In both cases, the bones of the body, including the vertebrae, are more susceptible to fractures.
Compression fractures – when the bones push against one another and get closer to one another – can be very painful. Many nerves travel in and out of the spinal column between the vertebrae, so when the vertebra is compressed, nerves are also often compressed. Manipulation therapy, physical therapy and exercise can help patients with their daily routine, slowing the degenerative aspect of these conditions.
Illness and Organ Dysfunction
As described earlier, there are both sensory nerves and motor nerves going into and out of the spine at each level of vertebrae. The nerves are our high-speed communication system in the body – some travel in and out of the spine and back to the body, while some travel in and out of the spine and up to the brain, then back to the body.
Back pain can happen because of challenges like:
Liver dysfunction
Kidney stones or problems
Constipation
Overloaded stomach
Bacterial or viral infection (in the spine or organs)
Cancerous or benign tumours of the spine
Loss of nerve function or degeneration of the nerves
What Are the Symptoms of Back Pain?
As you can see, there are many potential causes of back pain. There are also many different symptoms people experience with back pain. Sometimes symptoms come and go. Sometimes the symptoms are progressive – meaning they get worse over time. Sometimes symptoms show up, never go away and always seem to be the same. What symptoms you have, what you experience, when symptoms flare and go away, and how severe the symptoms are is a uniquely subjective experience.
Below are some examples of what people experience with back pain.
Intermittent Symptoms
When someone first has back pain, symptoms can come and go. To the mind, the symptoms may seem to have no rhyme or reason. People in this stage can experience:
A twinge or catching of a place in the back
Dull, aching in the middle of the back or on a side
Throbbing, hot sensation
A sudden hot or shooting pain that runs up or down
Stiffness that makes it difficult to move – decreases the range of motion and flexibility
An inability to stand up straight or start to move … then gradually we can move slowly … then back to normal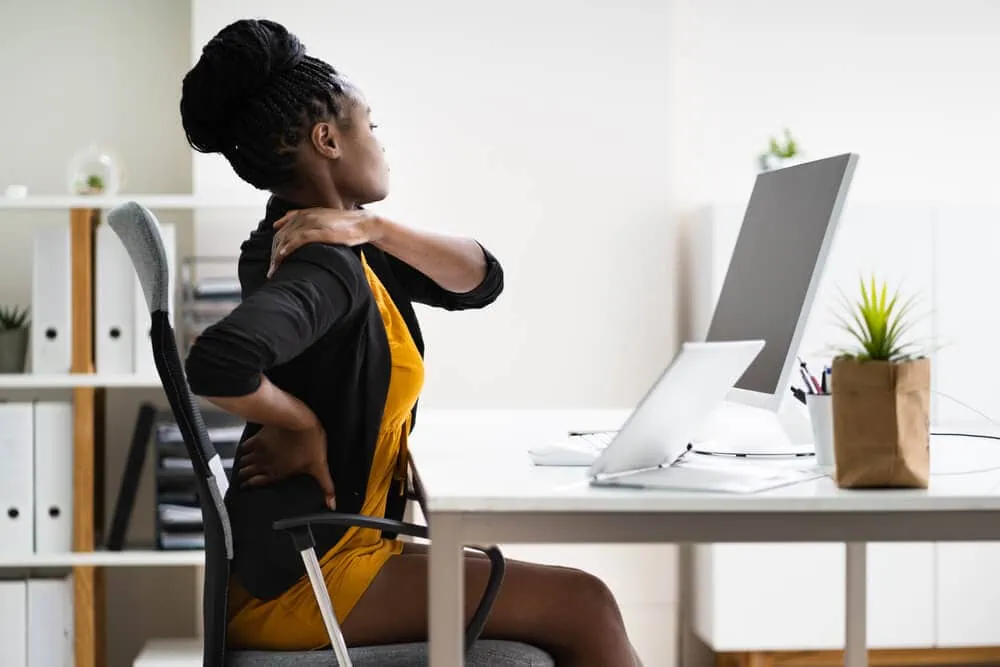 Lingering Symptoms
Lingering symptoms can happen after someone has had back pain (or symptoms above) come and go for a while. Then 'one day' the symptoms stay a little longer – a few days or a week or a month. People in this stage can experience:
All the symptoms above with more intensity
Difficulty falling asleep because they can't get comfortable and feel intermittent back pain at night
Difficulty sleeping because they feel symptoms when they move at night
Stabbing or shooting pain radiating down the leg or arm, up or down the spine, outside of the body, down into the abdomen – comes on and goes
Reduced ability to flex or extend the back, lift the legs or lift the arms
Sharp or sudden pain when twisting or bending or reaching for something
Persistent Pain
Persistent pain is constant unrelenting pain present in the day and the night that isn't going away. This is the category of severe back pain and often requires medical attention. Symptoms can include:
Urinary or bowel difficulties or pain, loss of control
Erectile, ejaculation or orgasm difficulty or pain
Numbness, tingling or weakness in one or both limbs (legs/arms)
Intense, constant pain that gets worse at night
Inability to sleep because of intense constant pain at night
Pain and throbbing sensation in the abdomen
Pain and throbbing or piercing sensation in the ribs, difficulty breathing
Fever and back pain
Headache and back pain
Unexplained weight loss and back pain
When having pain to this degree, it is always beneficial to pursue medical attention first. Disease factors should be considered for proper therapy to occur. The appropriate pain relievers need to match the type and experience of pain. Once you have a medical diagnosis and are stabilized, then it is beneficial to combine natural treatments to decrease your recovery time, relieve your pain and assist your restoration to health.
9 Home Remedies for Treating Back Pain
These self-help tips are the basics that will assist all other approaches to work more effectively.
1. Hydrate
Review your current hydration status and begin to drink the amount of fluid you need every day consistently. It is important to reach your hydration needs every day so your body has the best opportunity to heal itself.
2. Sleep
Make sure you are getting to sleep at a good time, you are comfortable when you sleep (use lots of pillows, have a good mattress) and you have a good 6-8 hours minimum when you are experiencing pain. Your body regenerates and detoxifies when you are sleeping. You will help yourself heal when you sleep well.
3. Posture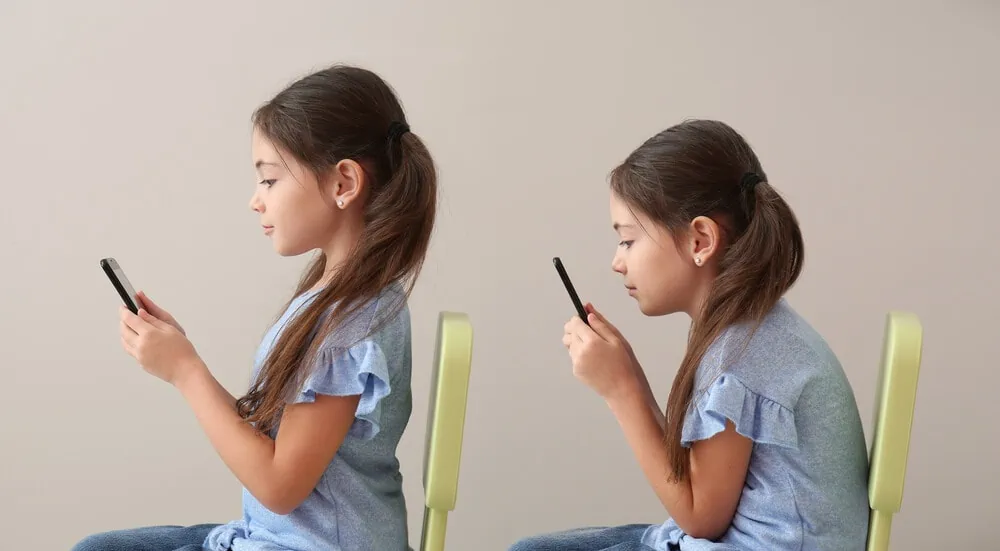 Make sure you are standing appropriately and sitting appropriately. Slouching, leaning forward, dropping your head forward and leaning and twisting all contribute to creating patterns in the body that are not beneficial for the body. When this happens regularly – it can be difficult for the spine to hold itself properly and have the flexibility it needs when something happens.
4. Move Your Body
Your body is designed to move. When you don't use it and are mostly sedentary (sitting 6 or more hours every day), your muscles, tendons, ligaments and fascia will not be strong. You are then more likely to experience strain and sprain when you do move and you will be more likely to injure your back. A 30min walk every day is an excellent way to start getting your body to move more.
5. Stretching or Range of Motion Exercises
It is important to do stretching exercises in an anatomically neutral (proper posture) position. When you are experiencing pain or discomfort in your back – never stretch into more pain or more discomfort. Stretch where you can and incorporate more range of motion exercises to build what you can do, decrease your discomfort and decrease your pain.
6. Get Into a Pool
If you are having difficulty doing exercise at home or outdoors, get into a pool and begin exercising in water. It relieves your body from the effects of weight and gravity. It can help you get a better range of motion, more movement and better function so you can eventually begin other exercises.
7. Hot/Cold Therapy
If you are going to use heat or cold packs – feel your skin first. Feel the skin where you have the pain. Compare it to skin somewhere on your body (close by) where you don't have pain. If the area with pain is hot – apply a cold pack for 10-15min. If the area is cold – apply a hot water bottle or heating pad for 10-15min.
8. Soak in Sea Salt (Not Epsom Salt)
If you like to take a bath, and you have a bath that is big enough to relax in – take a bath with 1 cup of sea salt. Sea salt has approximately 84 essential minerals – as you are soaking you will re-mineralize your body and help yourself relax. A few drops of essential oils can assist relieve back pain. For example, you could use: lavender, camphor, eucalyptus, rosemary, lemongrass, lemon, and helichrysum.
9. Ask for Help From a Professional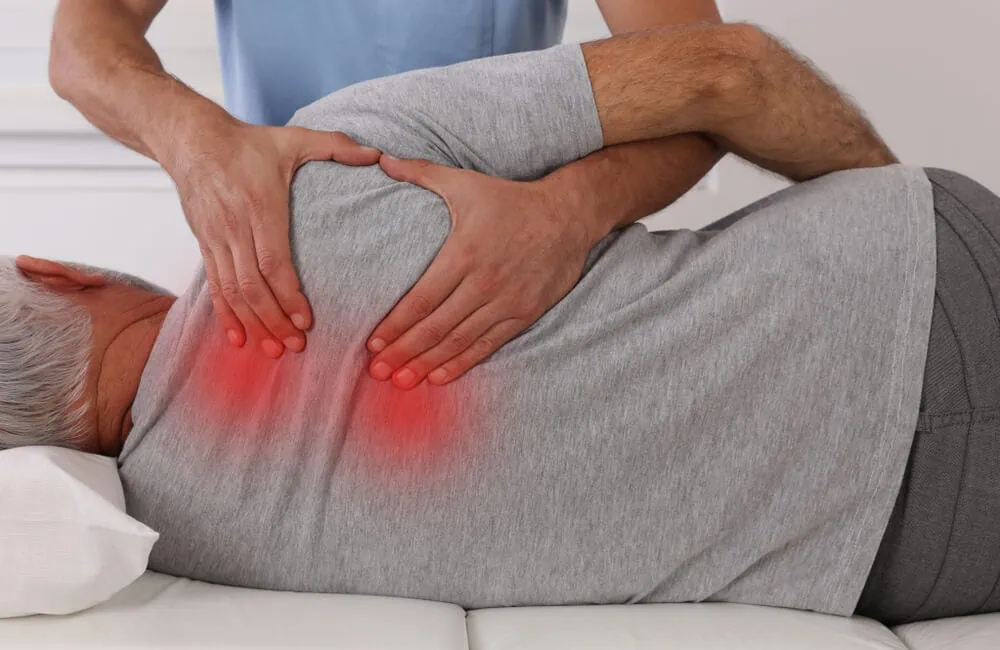 If your pain has continued for a while and is affecting your quality of life, your ability to function in your day or sleep at night – get help. There are many therapeutic approaches that can assist such as classical osteopathy, massage, acupuncture, physiotherapy, naturopathy, and chiropractic.
Osteopathic manual therapy will take a whole-body approach to your back pain and to you as an individual.