Today, many women are choosing to have children later in life than previous generations.
Fertility treatments are a common option for those with difficulty conceiving naturally.
Creating the conditions for optimal egg quality is an important factor in achieving and maintaining a healthy pregnancy.
Women are born with a set number of oocytes (eggs) and from puberty until menopause, an egg should be released from the ovary (ovulation) each month.
The quality of the egg depends on the health of its mitochondria – the powerhouse- or energy production of the cell.
The more mitochondria the healthier the egg.
As women age, they have reduced mitochondrial activity- and therefore, reduced energy production which adversely affects the egg's viability.
Contributing Factors to Diminished Ovarian Reserve 1:
Advanced maternal age.
Exposure to systemic chemotherapy.
Exposure to pelvic irradiation.
Cigarette smoking.
Endometriosis.
Surgical procedures to the ovary.
Auto-immune disorders.
Environmental exposures.
Endocrine disorders (diabetes, PCOS).
Regardless of contributing factor, there are multiple ways to support egg quality.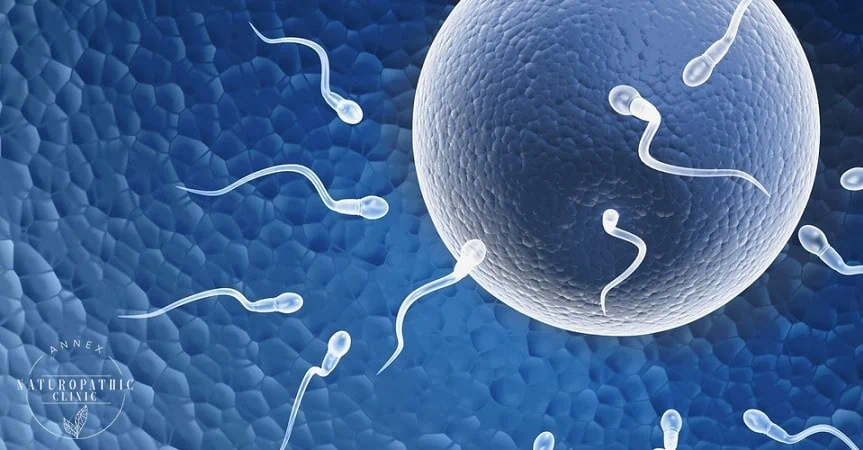 How To Support Egg Quality:
Reduce Oxidative Stress
Quit smoking. Smoking increases oxidative stress and accelerates time to menopause. Cessation of smoking should happen 3-6 months before initiation of treatment (dependant on age and ovarian reserve).2
Decrease alcohol consumption. Alcohol is a reproduction toxin that can increases oxidative stress.
Improve pelvic blood flow
Exercise increases blood flow to the core and pelvic organs, while improving sexual function and mood. Moderate exercise also reduces inflammation and oxidative stress.
Increase anti-oxidants
Both in the diet and in supplement form, anti-oxidants have a protective effect on the ovaries and their mitochondira.
Bright coloured fruits and vegetable contain high amounts of anti-oxidants.
Supplemental anti-oxidants include: melatonin, pyrroloquinoline quinone (PQQ), alpha-lipoid acid (ALA), and resveratrol.
Support mitochondria
Although all the aforementioned points all act to support the mitochondria, there are more nutrients that support the ovaries in different ways.
A nutrient called "inostitol" improves glucose uptake and helps ensure the mitochondria of the ovaries have optimal fuel.
Another nutrient, "carnitine", plays a role in metabolism of fatty-acids to produce energy through a process called beta-oxidation.
This process is also essential for egg maturation.
Optimize hormones and blood sugar
Reduce sugar consumption and lose excess weight. Increased insulin levels leases to imbalances of sex hormones and altered ovulation. Obese women have altered mitochondrial function.3
Women with impaired blood sugar regulation have more difficulty conceiving.4
Naturopaths are able to appropriately recommend diet, lifestyle and nutritional supplementation to help support egg quality and fertility.
The naturopathic doctors at Annex Naturopathic Clinic are experienced in working with fertility and helping women achieve and maintain healthy pregnancies.
---
References:
ESHRE Guideline: management of women with premature ovarian insufficiency. Human Reproduc'on. 2016;31(5):926–37.
Hughes E, Lamont D, BeecroO M, Wilson D, Brennan B, Rice S. Randomized trial of a "stage-of- change" oriented smoking cessa'on interven'on in infer'le and pregnant women. Fer'lity and Sterility. 2000;74(3):498-503.
Pertynska-Marczewska M, Diaman'-Kandarakis E. Aging ovary and the role for advanced glyca'on end products. Menopause. 2017;24(3):345-351.
Hjollund, NH et al. Is glycosylated haemoglobin a marker of fertility? A follow-up study of first pregnancy planners. Hum Reprod. 1999 Jun: 14(6)1478-82.