It can be hard to eat well in the winter time.
Many of the major holidays and important dates which fall during this time of year come with large meals that tend to promote over-indulgence. At the same time, cold weather leaves us craving "comfort foods" which are full of sugars and starches.
Our ancestors ate more food during the colder months because the extra calories helped keep them warm, but with the advent of modern heating systems we no longer need this.
Eating and drinking more, along with inactivity that comes with winter months, can lead to cardiometabolic health issues – keep reading to learn how to stay healthy during the chilly winter months.
1. Include Omega 3 In Your Diet
There are many reasons to add Omega 3 fatty acids to your diet.
They have been shown to help lower levels of depression, which is important in the winter when people are more likely to be feeling low due to the shorter days and lack of sunlight.
They can also help reduce joint pain and stiffness, as well as help to improve skin health, which doesn't have to do with diet, but is a nice bonus during cold, harsh, and often skin-drying Canadian winters.
2. Supplement With Vitamin D
According to Statistic Canada, nearly a third of Canadians have low levels of vitamin D in their blood, with this number going up to 40% during the winter months.
Vitamin D is vital for bone growth, and during the summer, the body converts sunlight to vitamin D. However during the winter months, when there is less sun (and our skin is covered up anyways), it's much harder to get enough of this essential nutrient.
There are a number of ways to add vitamin D to your diet, including:
● Krill oil
● Egg yolks
● Fish, including salmon, trout, and tuna
● Fortified milk
● Cod liver oil
● Pork ribs, and
● Vitamin D supplements
3. Resist Your Urge to Scarf down Carbs
Why do we love carbs so much?
Eating them causes serotonin levels to rise, resulting in feelings of happiness.
Resisting the urge to "scarf" your carbs doesn't mean you have to entirely pass on the stuffing at Christmas dinner, or your nana's famous cinnamon buns.
Starting the day with a protein-rich breakfast can help calm your cravings, and when it comes time to indulge in those tasty treats, do so in moderation.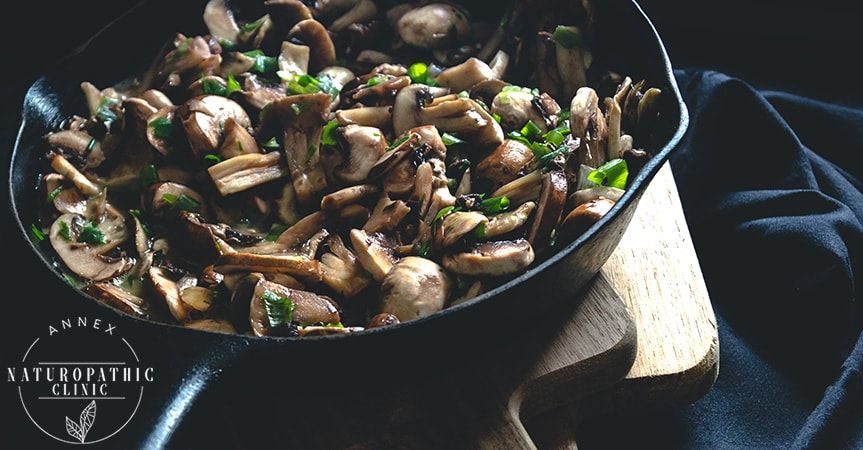 4. Don't Forget Your Leafy Greens
You might not be seeing much green when you look out your window, but you definitely want to ensure you're getting enough greens on your plate.
Veggies which are dark green and leafy such as kale, Swiss chard, and spinach are full of nutrients, vitamins, minerals, and fibre.
Increased fibre intake can help decrease inflammation, boost the immune system, and reduce cholesterol levels.
5. Enjoy The Vegetables In Season
Getting fresh vegetables in your diet is a good idea year-round, however it can be harder to remember to do this when it doesn't seem like much is growing outside.
Winter is a great time for Brussels sprouts, squash, potatoes, onions, beets, and carrots – just reading this list makes me want to make a nice hearty stew.
6. Use Mushrooms In Your Meals
Mushrooms are bursting with immune-boosters and health benefits.
They're full of antioxidants such as selenium and vitamins C and D, as well as B vitamins including riboflavin, folate, thiamine, and niacin.
They also contain naturally-occurring antibiotics, giving them medicinal properties which can help to stave-off illness.
Try adding shiitake or white button mushrooms to your next meal.
Book an Appointment at Annex Naturopathic
Are you worried about maintaining healthy eating habits during the cold winter months?
Are you concerned about your vitamin levels during these cold months where fresh fruit and veggies are less readily available?
Or do you want to ensure you're getting enough vitamin D on those dark days of winter when you forget what the sun looks like?
Annex Naturopathic can help.
Contact us today for a consultation, we'll listen to your health concerns and work with you to come up with a plan which is right for you.