Although acne has been mostly treated as a topical condition, we are going to look deeper in this article and see that acne can truly be something that comes from the inside out. This is also what makes acne confusing to treat, as there is no one standard treatment for everybody. With multiple skin types, multiple types of acne and an overwhelming amount of information, it is very understandable to be confused when it comes to determining what will help your acne problem.
Those who suffer from acne typically have tried multiple products, over-the-counter solutions, dermatologist-recommended products, masks, lotions, serums, medications and antibiotics. This is because acne can cause a lot of issues with confidence, self-esteem, and one's willingness to participate in life. Improving acne breakouts even by a small amount can boost mental health outcomes. So let's look at what we can do to help acne get better and how to glow from the inside out.
What is Acne?
Acne occurs on the skin, when your pores, or skin follicles, become blocked. Acne can occur anywhere on the body. However, it is most common on the face, neck, back and shoulders. Most people will experience at least one type of acne in their life. It is prominent as people go through puberty, however many people suffer from acne well into adulthood.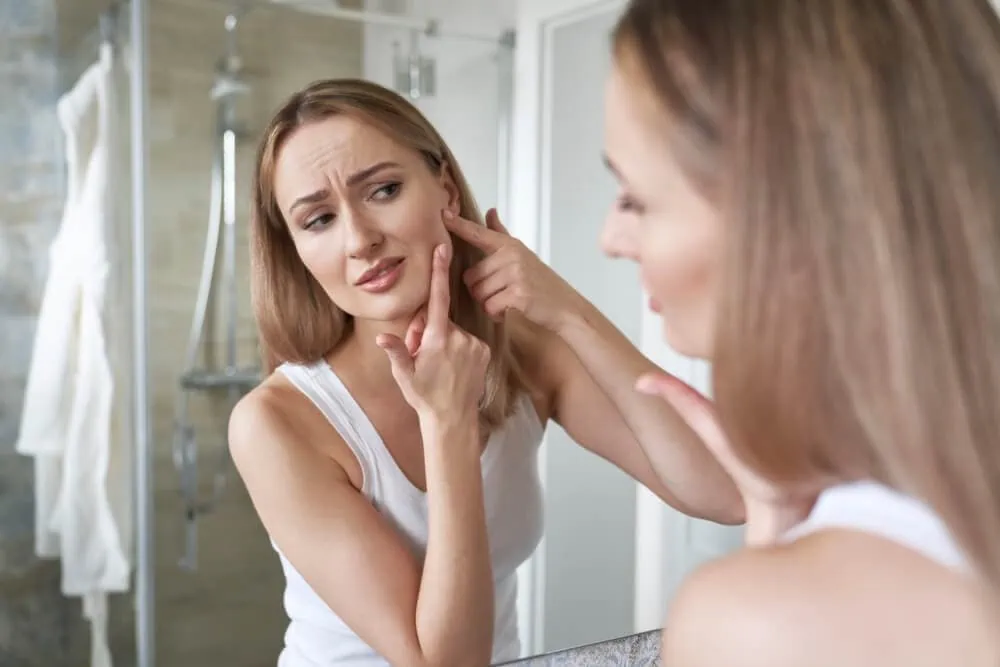 There are different types of acne. Some people may experience only one type, while others may have a few different types of acne. Acne can look like:
Pimples (papules)
Blackheads (comedones)
Whiteheads (pustules)
Cysts (nodules)
Some acne leads to scarring depending on the size, type, and sensitivity of your skin and how much you pick at it.
What Causes Acne?
Acne occurs from the sebaceous glands of the skin. This is where sebum, the oil of the skin is released to moisturize and protect the skin and the hair follicle meet. These are most numerous on the face, upper back and chest.
Acne mostly occurs in two ways:
During puberty androgens (testosterone), sebum and growth hormone levels peak. Androgens can increase sebum and this blocks the follicles leading to the formation of acne.
Propionibacterium acnes (P. acnes) promotes inflammatory activity at the follicle and turns sebum into a follicular plug. Any source of inflammation in the body can help P. acnes oxidize sebum at your pore into an acne breakout.
7 Home Remedies to Treat Acne (Recommended by a Naturopathic Doctor)
1. Support Your Liver Health and Detoxification
What does your liver do?
The liver is responsible for the majority of your body's detoxification (We also detoxify through our sweat and urine). This means that it processes most things that you come into contact with on a daily basis. This looks like the exhaust you breathe in from being out and about from cars, trucks and buses, the pesticides that are present on our food when we consume them, the particles in our water, the chemicals in our skincare products, detergents and cleaners, the medications we take and the hormones we make all have to be broken down in the liver. This is a big job to do, especially in our modern world.
Your liver and acne
When considering how much work the liver has on a daily basis – it is no wonder that it can get a little behind. When the liver slows down or isn't supported like it needs to be and isn't able to process everything that it needs to – it can create a backlog and this can look like acne for you.
How to support your liver
Including a variety of the following foods:
Cruciferous vegetables (broccoli, cauliflower, brussel sprouts, mustard greens, etc)
Berries (blueberries, cranberries, raspberries)
Citrus (lemons, grapefruit)
Fatty fish (salmon, mackerel, anchovies, sardines, herring)
Tea (Dandelion, green tea)
2. Make Sure You Are Having a Daily Bowel Movement
What defines constipation?
A healthy bowel movement should occur 1-3 times per day, be easy to pass with no straining, one smooth piece and feel complete after you are done. When one of these things is not the case – your bowels may be a little sluggish. If you are struggling with going to the bathroom – you can be functionally constipated.
The role bowel movements play in detoxification
Once your liver has done the hard work of breaking down and detoxifying everything that needs to leave your body – you still need to ensure that you are able to get it out. This is where passing a bowel movement comes in. Most things that are broken down are excreted with your stool.
When you are unable to pass a movement every day, or have hard movements that are difficult to pass, this allows for more time for your stool to sit in your colon and more time for these things to get reabsorbed back into your bloodstream. When this happens, your body has to break them down all over again increasing its workload.
Ways to Improve Constipation
Ensure you are doing the following:
Increase fruit and vegetable intake
Increase water consumption
Increase fibre intake
Eat meals and avoid grazing
Eat at the same time each day
Use apple cider vinegar before meals to increase digestive capacity
Use a squatty potty to aid in passing a bowel movement
3. Increase Your Daily Fibre Intake
What is Fibre?
Fibre is found in plant foods and is the indigestible part that your intestinal tract does not break down. It helps move food and waste through your body and helps you have a regular bowel movement. Fibre holds water in the stool, providing lubrication for your bowel movements to keep moving as well as providing bulk, to help stretch your intestine and stimulate peristalsis (forward motility).
Fibre and Acne
An increase in fibre in the diet helps achieve a healthy bowel movement. As we learned above, this is an important part of the clearance of waste from the body. It helps bind the toxins that our liver has broken down to make sure they are able to leave.
Increasing Fibre in your Diet
Foods to include to increase fibre intake:
Vegetables (leafy greens, broccoli, carrots, brussel sprouts)
Fruit (apples, oranges, berries)
Whole grains (rye, pumpernickel, brown rice)
Beans (navy, white, chickpeas, kidney)
Nuts (almonds, pistachios
Seeds (chia, flax, hemp)
4. Ensure a healthy Gut Microbiome
What is the gut microbiome?
The gut microbiome is made up of all the bacteria that live inside your intestinal tract. We can have good bacteria that help us break down our food, extract our nutrients and support our immune system. We can also have bacteria living inside of us that do the opposite – these bacteria can ferment our food, increase inflammation and cause negative symptoms in our digestive system.
Microbes that cause acne
Researchers have been looking deeper at the causes of acne and how it affects some people more than others. Experts in dermatology now agree that the gut microbiome plays a role in acne breakouts. They have been able to find connections in the gut-skin axis and see the level of inflammation one might experience based on the makeup of their gut microbes.
How to support your gut microbiome
Diversity is the best way to support your gut microbiome. You grow what you fertilize. Choose a wide variety of colours of fruits and vegetables, and include a diverse intake of nuts, seeds, beans, legumes and grains.
5. Reduce Sugar Intake
Sugar and your blood sugar
When we eat sugar it raises our blood sugar. This is because sugar breaks down into glucose in the body. The type of sugar you eat and what it is paired with – determines how quickly your blood sugar will go up. An easy way to figure this out is to use the Glycemic Index of food. When blood sugar rises quickly it causes our insulin to rise too. Insulin is responsible for helping our body store all that glucose in our cells for later energy use.
High blood sugar and acne
When insulin levels are high this actually increases sebum production in the skin. What we have learned so far is that increased sebum leads to increased acne. The higher your blood sugar spikes are related to the number and severity of the acne you have.
Managing your blood sugar
Ways to help keep your blood sugar stable:
Reduce candy, baked goods, sodas and chocolates in the diet
Be mindful of what is in your food – try to stick to low-glycemic foods
When you are eating sugar make sure you pair it with a protein and fat to slow its uptake into the bloodstream.
When making your plate or meal, be mindful to have a good combination of protein, fats and carbohydrates.
6. Balance your Stress Response
What is stress?
Stress is anytime your body perceives or believes there is a threat. This is a response that was developed to help keep you alive, by keeping you alert to your surroundings. In modern life, stress can come from all sorts of things; being busy, having large responsibilities at work or school, trying to fit everything in, trying to achieve certain goals and the list goes on. Our body is not good at knowing the difference between life-threatening and daily life. This can increase our stress hormones significantly if we feel this way all the time.
Stress and your acne
The stress hormone cortisol increases during periods of stress or perceived stress. Research now shows that an increase in stress can be directly linked to acne severity and exacerbation through locally secreted corticosteroids that affect sebum production and inflammation.
Managing your stress
Practice relaxation techniques such as breathing, yoga or journaling
Plan your day in advance to reduce "unknowns" and have an action plan
Spend time in nature
Practice daily gratitude
Keep a daily pleasure/joy practice
Hug someone close to you, pet your pet or use a weighted blanket
7. Use Topical Supports to Clear Skin While You Work on Healing From the Inside Out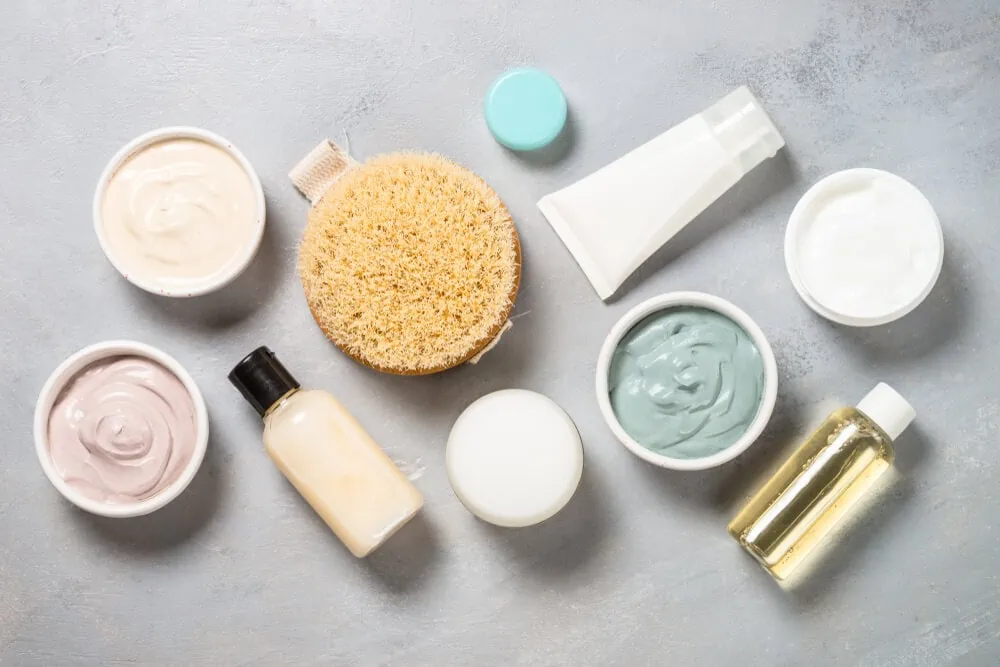 Use antimicrobial topicals to kill acne bacteria
Spot treat with Tea Tree Oil
Use a Green Tea face wash

Green tea is used for its antioxidant and anti-inflammatory properties. It's high in EGCG (epigallocatechin-3-gallate), one of its antioxidants that has been shown to fight inflammation, reduce sebum production, and inhibit the growth of P. acnes.
Use Witch Hazel as a facial toner

Witch hazel is used for its anti-inflammatory and astringent (drying) properties. Evidence has shown that witch hazel can minimize breakouts, calm the skin and reduce excess oil and sebum reducing the chances of clogged pores.
Use topicals to gently exfoliate the skin
Use a Papaya face mask

Papaya contains the enzymes papain and chymopapain which have been shown to reduce inflammation. Papain also works as a gentle exfoliator, removing dead skin cells from the surface of the skin, lessening the chances of blocked pores and being gentle enough to not cause dryness.
Use a Pumpkin face mask

Pumpkin has a lot of benefits for acne-prone skin as it contains zinc and potassium – both known for their skin-healing properties. They help fight redness, reduce skin inflammation, and treat acne. Pumpkin also gently exfoliates, leaving the skin soft and smooth.
Use Salicylic Acid to peel the skin

Salicylic acid continues to be used in numerous products for its proven effectiveness in helping fight acne. It works by dissolving dead skin tissue, speeding up cell turnover and keeping the skin clear to minimize future breakouts.
How to Prevent Acne & Pimples
Skin Care Tips to Keep Acne at Bay:
Wash your face in the morning (after a night's sleep) and before you go to bed
Wash your face anytime you sweat
Change your pillowcase and towel on a weekly basis to prevent bacterial build-up
Use clean hands to wash your fash, not a washcloth which can be abrasive
Moisturize your skin to keep your skin barrier healthy
Try not to touch, pick or fiddle with your skin – this can lead to scarring
Use sunscreen daily to protect your skin from the UVs
Ensure your hair is clean or pulled off your face – your hair can hold a lot of oils
What Are the Possible Side Effects of Treating Acne Naturally?
Any topical treatment you use on your skin has the potential to cause a reaction. The topicals discussed here are very gentle but you should always spot-treat a small area before applying a treatment to the whole face.
How Can a Naturopathic Doctor Treat Acne?
A naturopath will work with you to determine the underlying cause of acne for you. As we learned in this article, there can be a lot of different things that cause acne and it can be really confusing knowing where to start and how much to do. Doing everything can seem overwhelming and not doing enough can leave you feeling like nothing is working.
A naturopath will go through your health history and habits and see the areas that are causing you the most amount of trouble and start there. It can be a lot easier than the trial and error you have to do by yourself.
A Naturopathic Doctor is also capable of ordering blood work and testing your hormone levels to see which if any are causing your acne and to help you rule out underlying conditions (like PCOS). With this information, a custom treatment plan is built just for you.
Frequently Asked Questions
Are Home Remedies for Acne Effective?
Home remedies for acne can be really effective, especially when a whole-body approach is taken. Remember acne is not caused by just one thing. This means that it usually takes more than one thing to fix it.
When you use these things in combination for acne treatment, you will see your amount of skin irritation go down, the amount of inflammation and redness go down and you will feel better with a better-balanced blood sugar through different food choices.
How Fast Do Home Treatments for Acne Work?
When talking about acne, there is no one size fits all approach. Depending on the type of acne you have, will determine how quickly you will see results. Using topical treatments on the skin can speed up the time of healing of existing acne that is already there. Topical acne treatments will help with the appearance, texture, and wound healing of breakouts you already see.
What Are the Best Natural Treatments for Acne Scars?
When treating acne scars, we want to support the skin's health. Consuming vitamin C, zinc and collagen are really good ways to internally promote healing. Topically, we want to gently peel using natural enzymes that won't harm the skin, like papaya, and use a thick moisturizer to help the skin repair.