Acne hits us at different times of life – most commonly during puberty, but as early as infancy and as late as old age.
If you're a new mom, you might be seeing the return of an old acquaintance you thought you'd long been rid of. Among all the other stresses and anxieties of pregnancy, acne is the icing on the cake.
So if you come to us for help with natural health care for your child or baby, acne might be on your mind as well.
So let's talk about acne. What is it, what causes it, and what you can do about it.
What Exactly Is Acne?
Acne occurs when the skin's sebaceous glands secrete enough oil that it plugs your pores.
Large pores or openings generally result in blackheads, while small pores become whiteheads.
It doesn't matter which you experience, though. All forms of acne are unpleasant. They can all lead to inflammation, tenderness, and infection.
What Causes Acne?
There are two main causes for acne: heredity and hormones.
If your parents have acne, there's a good chance you'll face it as well. You'll have to do the best you can with the genes you have.
Hormones, on the other hand, fluctuate all the time. Depending on the month, the day, or the stage of life you're in, your hormones will fluctuate. It doesn't matter what gender you are.
These hormone fluctuations can lead to skin acne. This is part of the reason why teenage acne is so common – puberty is a time of heavily fluctuating hormones.
Puberty lasts to the early twenties, when puberty-related acne will wane and stop. However, keep in mind that adult acne still accounts for 20% of cases, so you may not ever truly be in the clear.
Aside from the above, bacteria can also cause problems. If the excess sebum closes the openings for your hair follicles, bacteria can lead to whiteheads or blackheadds.
Hair follicles clogged in this way are called comedones. If the bacteria grow into these comedones and builds up too much, it can cause the follicle wall to break and leak into nearby tissues.
This turns into a pustule or papule, and is called inflammatory acne. Larger, more severe pustules are called nodules.
One last cause of acne can be your choice of contraceptive. Oral contraceptives, injectable contraceptives and IUDs can cause acne for some women, but might actually clear it up for others.
What DOESN'T Cause Acne?
Now that we know what causes acne, it's time to dispel some of the myths around this troublesome skin condition.
First off, food. You may have heard binging on fried food and chocolate will cause acne outbreaks. This myth is common, but untrue.
What's more likely is that you went for the junk food because of a change in your hormones. And as we mentioned above, hormonal changes can lead to acne breakouts.
Likewise, stress isn't a direct cause of acne. If you've never dealt with acne before – you lucky devil – a stressful period is unlikely to cause acne.
However, it is clear that stress and a poor diet can aggravate your acne. So it's worth considering both when you're dealing with an outbreak.
Natural Solutions For Acne
There are pharmaceutical creams and pills that can help with acne. However, these tend to come with side effects that make them less attractive.
Instead, consider the many natural solutions – below are a few to get you started.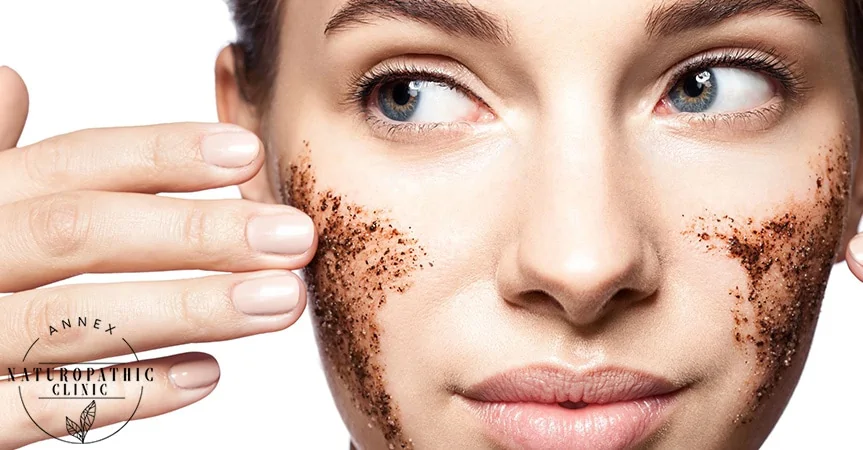 1. An Elimination Diet
While food doesn't directly cause acne, it seems it can increase the odds of getting it.
In this case, dairy products seem to increase the chances in people ages 7-30. This may be because of all the hormones in milk, or due to an inflammatory response to an intolerance.
It's for this reason naturopathic doctors often recommend an elimination diet. This is how to find out what foods aggravate your body's natural hormone cycles, triggering acne breakouts.
To do this, you start with two weeks of a bland diet. The idea is to cut out anything that might be a typical allergen or cause an inflammation response in your body.
Once you have a baseline for what's normal, you start to gradually add back foods, one at a time. All the while, pay close attention to the effect they have on your body, and in this case, your acne.
2. Tea Tree Oil
Tea tree oil has antiseptic qualities. It's a naturally-derived product that comes from Australia.
Mix one part tea tree oil with nine parts water, and then dip a cotton swab and apply it to your acne; repeat once or twice a day.
Compared to other topical solutions – such as benzoyl peroxide – it may not work as fast. However, it also has fewer negative effects, such as dryness, irritation and burning.
If used consistently over a couple of months, it can have a significant impact on acne, and can be an effective treatment for mild and moderate acne.
3. Address Digestive Issues And Nutrient Deficiencies
As we pointed out in the elimination diet tip, the food going into your body can increase your chances of getting acne.
In this particular case, zinc supplements lead to a discernible reduction of acne after eight weeks.
Improving your diet so that your body is not stressed can help to reduce your acne. We've blogged extensively about the digestive system and gut health, and how it impacts all kinds of disorders and conditions – and acne is no different.
4. Reduce Stress
Stress causes a hormonal response in your body. This response can increase sebum production and skin inflammation, which makes acne worse.
There have been studies that have proven a significant link between stress and the severity of acne, especially in men.
Not only can it impact the severity of your acne, it can also slow down the healing process of lesions by up to 40%.
Some good ways to reduce your stress to help calm your skin include:
• Fitting in some physical activity
• Meditate or practice yoga
• Deep breathing
• Get more good-quality sleep
5. Exfoliate Your Skin
Exfoliation is the process of removing the top layer of skin from the epidermis. You can use a brush, with a scrub, or through applying a thin layer of acid to dissolve the dead skin cells.
It's thought that by removing these dead cells, it allows medications, creams and treatments to penetrate better.
As well, it prevents clogging of pores with sebaceous deposits that can lead to blackheads or whiteheads.
While the research is limited, small studies have shown exfoliation treatments lead to clearer skin. In one study, 96% of the participants were happier with their complexions than before exfoliating.
To make your own at home, rather than pay for expensive treatments, mix equal parts sugar or salt with coconut oil.
Use this mixture to scrub your skin thoroughly, then rinse well; you can do this once daily to help reduce your acne.
Contact Annex Naturopathic
The nice thing about seeing a naturopathic doctor is that we pull on a wide variety of aids in helping you with your concerns and conditions.
The truth is that different people need help in different ways, and we're happy to explore what works for you.
If you're suffering from acne that's making you want to hide away, call Annex Naturopathic now to book your appointment. We'll help you put your best face forward again.