Dealing with conditions like Gastroesophageal Reflux Disease (GERD) or acid reflux can be challenging due to their persistent nature and disruptive symptoms. Turning towards home remedies can provide significant relief, fostering a sense of control and proactive care for your own health.
GERD, commonly referred to as acid reflux, is a condition where stomach acid excessively flows back into the esophagus, causing various discomforts including heartburn.
Understanding GERD and how you can manage it with home remedies is not just a step towards mitigating symptoms, but a stride towards improving your overall quality of life. In the subsequent sections, we'll delve deeper into understanding GERD and explore various natural remedies for relief.
What You Will Learn in This Article:
You will learn how to soothe acid reflux and heartburn with 16 proven natural home remedies for relief, long-term GERD management, and discover 3 home remedies to avoid!
Understand GERD and Acid Reflux
16 Home Remedies that Work
3 Home Remedies to Avoid
Dietary and Lifestyle Changes for long-term management
Clothing choices and how the affect symptoms
The importance of stress management
When to seek help from a professional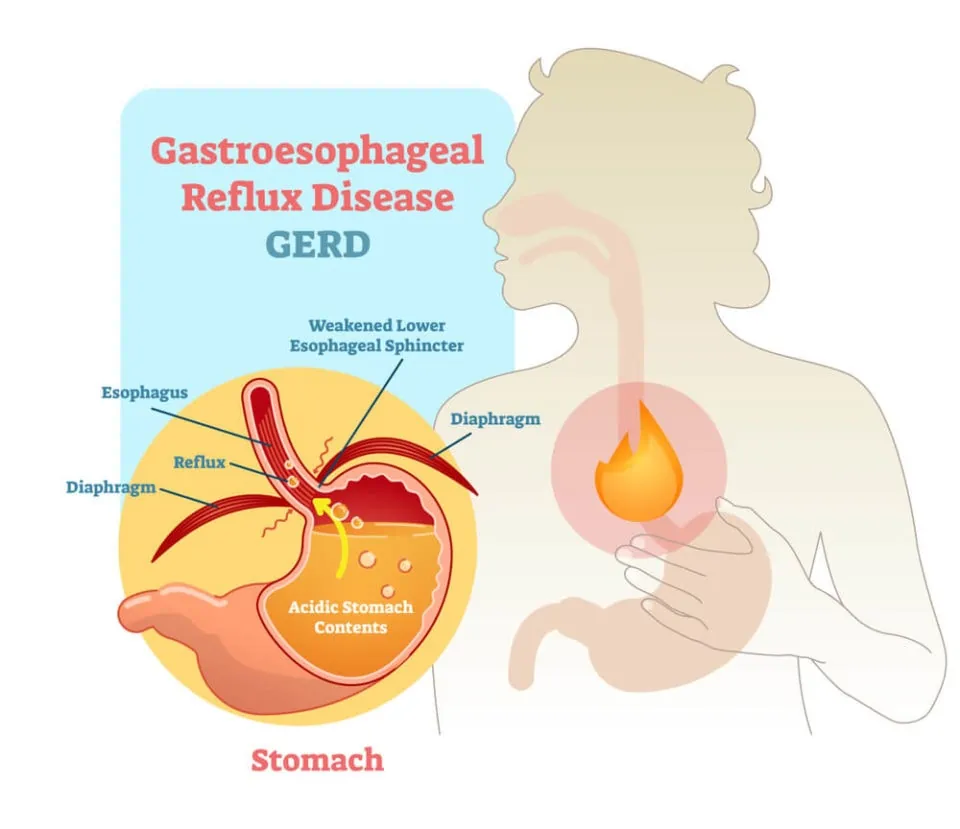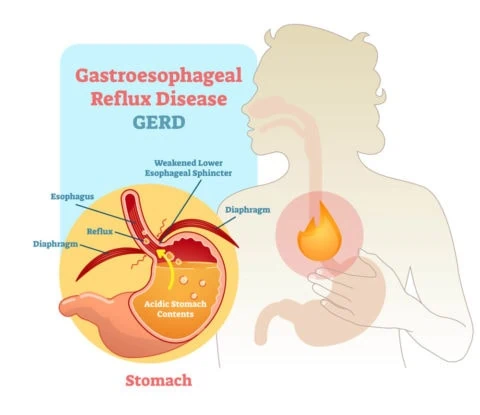 Understanding GERD and Acid Reflux
Gastroesophageal Reflux Disease (GERD) is a chronic condition of the digestive system where stomach acid or, occasionally, stomach content, flows back into your esophagus — the tube that connects your mouth and stomach. This backward flow, or reflux, can irritate the lining of your esophagus and often leads to heartburn and other symptoms.
GERD is prevalent, affecting 10% to 20% of the population in Western countries. In Canada, this translates to about 3.4 million to 6.8 million people living with this condition. Despite its common occurrence, GERD should not be trivialized. Many patients recall experiencing symptoms for more than 10 years before receiving a diagnosis, and the disease can last up to 18 years, demonstrating its long-term impact. Moreover, untreated GERD carries not only a significant health burden but also an economic one. The healthcare system in Canada spends an average of $6,915 per patient for those with a primary diagnosis of diseases of the esophagus and associated complications. (Locke et al., 1997)
Understanding the difference between GERD, acid reflux, and heartburn is essential. All three terms are often used interchangeably, yet they represent different aspects of the same condition. Acid reflux refers to the backward flow of stomach acid into the esophagus. GERD is the more severe, chronic form of this condition. Heartburn, however, is a symptom of both GERD and acid reflux, characterized by a burning sensation in the chest.
The symptoms of GERD and acid reflux include more than just heartburn. Individuals may experience a sour or bitter taste in the mouth, difficulty swallowing, regurgitation of food or sour liquid, and even a sensation of a lump in your throat. Triggers can range from certain foods like spicy dishes and citrus fruits, lifestyle habits like smoking and excessive alcohol intake, to physical conditions such as obesity or pregnancy.
Speak to a Naturopathic Doctor About Managing GERD
Get a free consultation for managing your GERD and acid reflux naturally.
Book an Appointment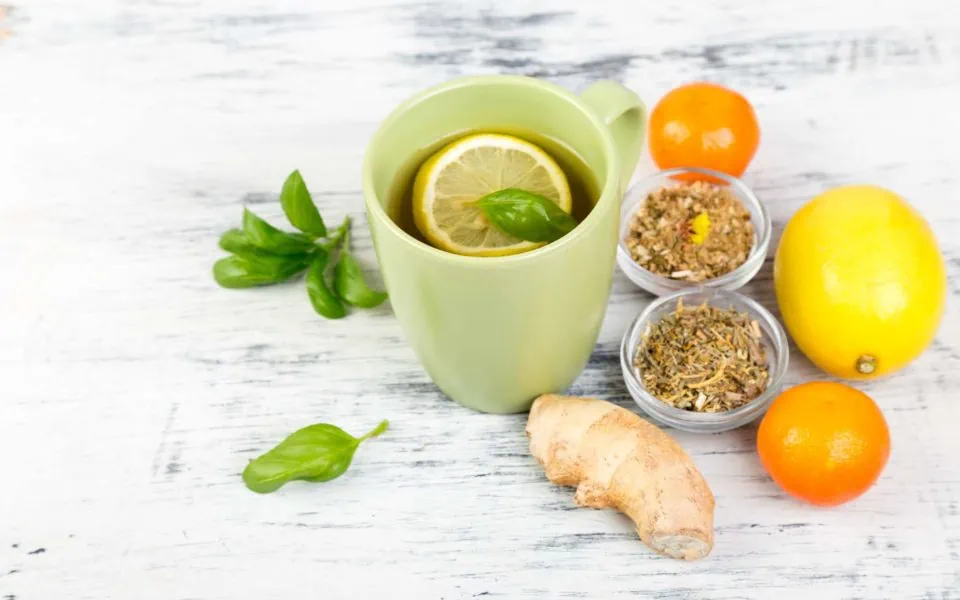 16 Natural Home Remedies for GERD and Acid Reflux That Work
As we delve into the realm of natural home remedies for GERD and acid reflux, it's important to understand that these remedies offer more than mere symptomatic relief. They harness the power of nature to restore the body's balance and support its inherent healing mechanisms.
In the following sections, we'll explore how accessible, everyday items like apple cider vinegar, bananas, ginger, and more can become valuable allies in your journey towards mitigating the discomfort associated with GERD and acid reflux.
1. Apple Cider Vinegar
Apple Cider Vinegar is a renowned home remedy for various health concerns including GERD and acid reflux. Despite being acidic, it helps balance the body's pH levels. When the stomach doesn't produce enough acid, the lower esophageal sphincter (the muscle that keeps stomach contents from moving backward into the esophagus) tends to loosen up, causing acid reflux.
Apple cider vinegar increases your stomach's acid content and thus helps in digesting food properly. This regular practice can help reduce the frequency of acid reflux and the intensity of heartburn. To use it safely and effectively it's best to consult a naturopathic doctor.
2. Bananas
Bananas are a natural antacid, making them an excellent choice for those dealing with GERD and acid reflux. These fruits contain a substance that enhances your stomach's mucous lining, which helps safeguard it from the damaging effects of excessive acid production.
Furthermore, bananas are high in fiber, which aids in digestion, preventing the onset of acid reflux. Incorporate bananas in your daily diet by having one as a snack, especially in the morning.
The natural sweetness of bananas also makes them a healthy dessert option, helping curb those sugar cravings that might otherwise lead you to consume foods that trigger acid reflux.
3. Ginger
Ginger has been prized for its medicinal properties for centuries. It is particularly effective in mitigating digestive issues, including GERD and acid reflux. Its anti-inflammatory properties help soothe the irritated lining of the esophagus, providing relief from the discomfort associated with acid reflux.
Additionally, ginger can aid digestion, reducing the likelihood of acid reflux occurring after meals. There are several ways to incorporate ginger into your diet. You can include fresh ginger in your meals, chew on a small piece of raw ginger, or prepare ginger tea.
To make ginger tea, slice a few pieces of fresh ginger root and steep in boiling water for about 10 minutes. Strain and sip slowly. This tea can be consumed 20 minutes before meals for optimal digestion and reflux reduction.
4. Aloe Vera Juice
Aloe Vera is well-known for its healing and soothing properties, and these effects are not limited to skin issues. Aloe Vera juice can also be an effective home remedy for GERD and acid reflux. When consumed, it soothes the irritated esophagus and stomach lining, reducing the burning sensation caused by stomach acid reflux.
For this purpose, you can drink half a cup of aloe vera juice, ideally organic and free from additives, before meals. It's important to note that aloe vera juice can have a laxative effect, so opt for a brand that has the laxative component, known as aloin, removed to avoid this side effect.
5. Milk
Milk has long been considered a quick and effective remedy for heartburn. It works by temporarily coating the esophagus and stomach lining, which can provide immediate relief from the burning sensation associated with acid reflux.
Even though milk can provide temporary relief, it's important to note that it's high in fat and protein, which can eventually stimulate the production of more stomach acid and can possibly make symptoms worse in the long run. Furthermore, many people have sensitivities to milk proteins or may be lactose intolerant and thus consuming milk would be problematic.
6. Almonds
Almonds are more than just a healthy snack option; they can also be a beneficial addition to a diet for those managing GERD or acid reflux. Almonds are rich in natural oils which can help neutralize stomach acids. Moreover, they are high in fiber, which aids in digestion and prevents the onset of acid reflux symptoms.
Consuming a small handful of almonds daily, preferably in the morning, can help mitigate the frequency and severity of heartburn. You can enjoy almonds as they are, or incorporate them into your breakfast cereals, smoothies, or salads for a nutritious and acid reflux-friendly meal.
7. Chewing Gum
Chewing gum may be helpful for reducing acid reflux. When you chew gum, your salivary glands are stimulated to produce more saliva. This excess saliva can dilute and wash away the acid that has accumulated in your gut, providing relief from heartburn.
Opt for a sugar-free chewing gum to avoid the risk of tooth decay. Chew it for about half an hour after a meal for optimal benefits.
8. Lemon Juice
Lemon Juice, despite being acidic itself, can help manage GERD and acid reflux symptoms. Counterintuitively, the citric acid in lemon juice can stimulate your salivary glands, which helps neutralize the acid in your stomach. Furthermore, lemon juice is rich in vitamin C, a potent antioxidant that can protect your esophagus from damage caused by chronic acid reflux.
To harness the benefits of lemon juice, mix one teaspoon of fresh lemon juice with eight ounces of water. Consuming this concoction in the morning can help maintain balanced pH levels in your stomach, reducing instances of acid reflux throughout the day. Be sure to rinse your mouth with water afterwards to protect your teeth enamel from the citric acid in the lemon juice.
9. Mustard
it might seem counterintuitive, given mustard's tangy flavor, it is alkaline in nature. This means, once consumed, mustard can help neutralize the acid that's causing discomfort in your esophagus. Furthermore, mustard is rich in minerals and contains a weak acid in the form of vinegar.
10. Essential Oils
Essential oils, derived from plants, have been used for centuries to treat a variety of ailments. It's not recommended that essential oil are taken internally (ingested by mouth). When it comes to managing GERD and acid reflux, certain essential oils can be particularly beneficial. Peppermint oil, for example, can soothe the stomach, reduce inflammation, and aid in digestion. However, it should be used cautiously as it can also relax the lower esophageal sphincter, potentially causing more reflux. To use peppermint oil, add a few drops to a diffuser or dilute it with a carrier oil like coconut or olive oil and apply topically to the stomach.
Other beneficial oils include lavender and eucalyptus. Lavender oil has a calming effect and can help reduce stress, which is often a trigger for acid reflux. Eucalyptus oil has anti-inflammatory properties and can help soothe the irritated lining of the esophagus. Remember, essential oils are potent and should always be diluted before use, and it's important to opt for high-quality, therapeutic grade oils. Always consult with a healthcare practitioner before starting any new health regimen.
11. Basil Leaves
Basil leaves, also known as Tulsi, have been traditionally used in Ayurveda for their digestive and medicinal properties. These leaves are known to stimulate the stomach to produce more mucus which in turn helps in providing relief from acidity and esophagus inflammation.
To utilize the benefits of basil leaves, you can chew two to three leaves on an empty stomach. Alternatively, you can boil a handful of basil leaves in water until the quantity becomes half, let it cool, then strain and drink it. The tea can help as a preventative measure when consumed regularly and can also provide immediate relief from a GERD or acid reflux episode.
12. Pineapple Juice
Pineapple Juice serves as a tasty and effective home remedy for GERD and acid reflux. Pineapples are packed with bromelain, an enzyme that contributes significantly to breaking down food and aids digestion, therefore reducing the odds of acid reflux. Additionally, they have inherent anti-inflammatory properties that can soothe the esophagus and lessen the burning sensation associated with acid reflux.
Enjoying a small glass of fresh pineapple juice following your meals can help control and prevent the onset of acid reflux symptoms. However, remember to consume it in moderation, as high amounts of citric acid can sometimes trigger acid reflux in some individuals. Pineapple juice is also high in sugar and may not be appropriate for many individuals.
13. Coconut Water
Coconut water is a refreshing and nutritious beverage that can be a boon for individuals experiencing GERD or acid reflux. Packed with natural enzymes and fiber, it promotes healthy digestion and helps regulate acidity in the stomach. Moreover, it's soothing effect on the stomach and esophagus lining can provide relief from the discomfort of acid reflux.
To harness the benefits of coconut water, consume it fresh and without any additives. A glass of coconut water in the morning, or sipping it throughout the day, can help manage and reduce instances of GERD and acid reflux. It's a delicious way to stay hydrated while also keeping acid reflux symptoms at bay.
14. Pickle Juice
Pickle Juice may seem an unusual remedy for GERD and acid reflux, but it has proven beneficial for some. Pickles are fermented, a process which can provide them with probiotic qualities. Probiotics are beneficial bacteria that promote a healthy gut, which can help regulate stomach acid production. Additionally, pickle juice is vinegar-based. As mentioned earlier, vinegar can help balance the body's pH levels, which, in turn, can relieve symptoms of acid reflux.
Try sipping on a small amount of pickle juice at the first sign of heartburn. Remember, however, that pickle juice is high in sodium, so this remedy should be used sparingly and with caution by those who have high blood pressure or are limiting their sodium intake.
15. Licorice
Licorice is another herbal supplement that can be beneficial. It has been used for centuries in Ayurvedic medicine to treat gastric complaints. Licorice supplements can help coat and protect the esophagus from stomach acid, providing relief from heartburn.
However, it's important to choose deglycyrrhizinated licorice (DGL) supplements, as regular licorice could lead to elevated blood pressure. Licorice tea can also be helpful, however, it's important to consult with your naturopathic doctor in the event you have high blood pressure. As with any supplement, it's important to consult a health care professional before starting a new regimen to ensure it doesn't interfere with any other medicines or conditions.
16. Chamomile
Chamomile is renowned for its calming and anti-inflammatory properties. When it comes to GERD and acid reflux, chamomile can help soothe the irritated lining of the esophagus and stomach, providing relief from heartburn and other discomforts. Moreover, chamomile tea can help decrease stomach acidity, further curtailing the onset of acid reflux.
To use chamomile as an acid reflux remedy, brew a cup of chamomile tea using dried chamomile flowers or a tea bag. Let it steep for a few minutes, strain, and drink. For best results, consider drinking chamomile tea about an hour before bedtime to alleviate nighttime symptoms of GERD.
3 GERD Home Remedies to Avoid
Despite being commonly referred to as home remedies, the following natural ingredients should be avoided when dealing with GERD or acid reflux.
1. Watermelon Juice
Watermelon Juice is refreshing and hydrating, but unfortunately not a beneficial addition to a diet for managing GERD and acid reflux. Watermelons are high in fiber, and FODMAP components. In people with sensitivities to FODMAPs, watermelon juice may worsen their symptoms and lead to more GERD.
2. Mint Leaves
Mint leaves, known for their cool and refreshing flavor, unfortunately do not serve as a natural remedy for GERD and acid reflux. Mint has the ability to relax the lower esophageal sphincter (LES), the muscle that prevents the backflow of stomach contents. This relaxation could potentially result in acid reflux in some people. Therefore, it's not recommended to those experiencing GERD.
3. Baking Soda
While baking soda can provide instant relief from the discomfort of acid reflux, regular or excessive use should be avoided, especially without professional guidance. Baking soda is high in sodium and using it regularly can significantly increase your daily sodium intake, potentially leading to a range of health issues like high blood pressure and kidney problems.
In the short term, you can consider one of the healthier home remedies we've listed in this article. In the long-term, it's important to consider dietary and lifestyle changes, which can address the root causes of acid reflux.
Dietary and Lifestyle Changes for Long-Term Management of GERD and Acid Reflux
While natural remedies can provide relief from GERD and acid reflux symptoms, lasting improvement often requires dietary and lifestyle changes. These adjustments work by addressing the root causes of acid reflux, such as unhealthy eating habits, lack of physical activity, and excess weight. Incorporating these changes can provide sustained relief, improve overall health, and enhance your quality of life. Let's delve into some dietary and lifestyle modifications that you can adopt to manage GERD and acid reflux effectively.
Weight Management and Exercise
Managing your weight and staying active can significantly affect your experience with GERD and acid reflux. Excess weight, particularly around the abdominal area, can put pressure on your stomach, causing the lower esophageal sphincter (the muscle that prevents acid from coming back up) to weaken, leading to acid reflux. By maintaining a healthy weight, you can reduce this pressure and, in turn, manage your symptoms.
Exercise plays a crucial role in weight management. Regular physical activity can help burn excess calories, promote weight loss, and strengthen your digestive system. However, certain exercises, like heavy weight lifting or high-impact routines, can actually trigger acid reflux by exerting excessive pressure on the stomach. Opt for light to moderate, low-impact exercises such as walking, cycling, or yoga.
Remember, it's important to wait at least two hours after eating before you exercise. Working out on a full stomach can push food back up into the esophagus, causing heartburn. A balanced approach to weight management and exercise can go a long way in managing GERD and acid reflux symptoms.
Quitting Smoking and Reducing Alcohol Consumption
Lifestyle habits like smoking and excessive drinking can exacerbate GERD and acid reflux symptoms. Smoking can weaken the lower esophageal sphincter (LES), allowing stomach acid to reflux into the esophagus. It can also reduce saliva production, which ordinarily neutralizes some of the stomach acid, and delay stomach emptying, further contributing to acid reflux. Therefore, quitting smoking can significantly reduce the frequency and severity of your symptoms.
Alcohol, meanwhile, can also relax the LES and stimulate acid production in the stomach, both of which can lead to acid reflux. While you may not need to eliminate alcohol entirely, reducing consumption can help manage your symptoms. Opt for lighter alternatives, minimize the quantity, and avoid drinking on an empty stomach or close to bedtime. Making these lifestyle changes can have a profound impact on managing GERD and acid reflux, and also contribute to overall health improvement.
Mindful Eating Practices
Incorporating mindful eating practices into your daily routine can have a positive impact on managing GERD and acid reflux. Mindful eating involves slowing down, chewing your food thoroughly, and fully focusing on the experience of eating. This practice aids digestion and allows your stomach to properly break down food, diminishing the likelihood of acid reflux.
Portion control is also an essential part of mindful eating. Overeating can put pressure on the lower esophageal sphincter and cause acid reflux.
Also, being mindful of the types of foods and drinks you consume is crucial. Acidic foods, fatty meals, caffeine, and carbonated drinks can all trigger acid reflux. Identifying and avoiding your personal triggers can significantly reduce episodes of acid reflux.
Lastly, try not to lay down or go to bed immediately after eating. Gravity helps keep your stomach contents down, reducing the likelihood of acid reflux, so it's best to remain upright for at least 2-3 hours after a meal.
Adopting these mindful eating practices can not only provide relief from GERD and acid reflux symptoms, but also enhance your overall relationship with food.
Importance of Clothing Choices
Certain clothing choices can contribute to GERD and acid reflux symptoms. Tight-fitting clothes, especially around the waist, can put excess pressure on your stomach and the lower esophageal sphincter (LES), leading to acid reflux. This pressure can force the stomach contents to push up against the LES, causing it to open and allow stomach acid to flow backward into your esophagus.
It's crucial to choose comfortable and loose clothing, especially when you're dealing with persistent GERD or acid reflux. Avoid tight belts, high-waisted pants, or any other clothing items that cinch tightly around your waist. Opt for clothing that allows you to move freely and doesn't add any extra pressure to your abdomen.
In addition, consider your sleeping positions and how they can be adjusted to help reduce acid reflux. Elevating the head of your bed can prevent stomach acid from flowing back into the esophagus during sleep.
Relaxation Techniques and Stress Management
Stress and acid reflux often go hand in hand. When you're under stress, your body is more likely to produce excess stomach acid, leading to acid reflux and heartburn. Additionally, stress can lead to habits, such as smoking or overeating, that further exacerbate GERD symptoms. Hence, incorporating relaxation techniques and stress management into your routine can be a game-changer in managing GERD and acid reflux.
Practices such as deep breathing, meditation, yoga, and progressive muscle relaxation can help reduce stress levels, promoting a sense of calm and well-being. These practices work by relaxing your muscles, slowing your heart rate, and lowering your blood pressure, all of which can have a positive impact on your digestive health.
In addition, adequate sleep is crucial for stress management and overall health. Try to establish a regular sleep schedule, and create a quiet, dark, and comfortable sleep environment.
Finally, consider reaching out to a mental health professional if you're struggling with chronic stress or anxiety. Cognitive-behavioral therapy and other forms of therapy can provide you with effective stress-management strategies.
Potential Risks and When to Seek Medical Help
While home remedies, dietary adjustments, and lifestyle modifications can effectively manage GERD and acid reflux, it's crucial to be aware of potential risks and understand when it's time to seek medical help. Persistent or worsening symptoms could be indicative of a more severe condition, such as a peptic ulcer or gastroesophageal reflux disease.
If you experience symptoms such as severe chest pain, difficulty swallowing, persistent nausea or vomiting, weight loss due to poor appetite or difficulty eating, or if over-the-counter treatments aren't bringing relief, it's time to seek professional help.
Moreover, long-term, untreated acid reflux can lead to more serious complications, including esophageal stricture (narrowing of the esophagus) or Barrett's esophagus (a precancerous condition).
A well-qualified naturopathic doctor, such as those in the team at Annex Naturopathic Clinic, can provide the ideal source of support. Offering a holistic approach to health, naturopathic doctors combine modern scientific knowledge with natural and traditional forms of medicine. They can provide personalized care plans, centered on understanding and treating the root cause of your symptoms, while also promoting overall health and well-being.
Don't hesitate to seek their help if your symptoms persist or worsen. Remember, early intervention is key to preventing more severe health issues and maintaining a high quality of life.
Find Relief From GERD
Take control of your GERD and Acid Reflux today by reaching out to a qualified naturopathic doctor at Annex Naturopathic Clinic. Our team is dedicated to providing personalized care plans that address both your symptoms and their root causes. By integrating natural remedies, tailored diet plans, and lifestyle modifications, we work towards not just relieving your symptoms but fostering long-term health and wellness.
Don't let GERD hold you back from living your life to the fullest. Contact us today and pave your way to better digestive health.
---
Frequently Asked Questions About GERD & Acid Reflux
What Will Relieve GERD Quickly?
Several over-the-counter medications may offer quick relief from GERD, however they do not address the root cause. Consuming a small amount of raw, unfiltered apple cider vinegar with water before meals can help. Though these remedies can offer relief, it's important to note that long-term management of GERD often requires lifestyle modifications such as maintaining a healthy weight, avoiding trigger foods, and managing stress. For an effective and comprehensive approach to managing GERD, consider seeking the guidance of a Naturopathic Doctor like those at Annex Naturopathic Clinic.
Can Water Stop Gerd?
Drinking water can provide temporary relief from GERD. Water dilutes stomach acid and helps flush it down into the stomach, reducing the symptoms of heartburn. However, drinking excessive amounts of water at once can increase stomach distention, which may exacerbate GERD symptoms. A more effective long-term approach to managing GERD involves lifestyle and dietary changes, such as eating smaller, more frequent meals, avoiding trigger foods, maintaining a healthy body weight, and reducing stress levels. Moreover, staying well-hydrated throughout the day with drinks like water, herbal tea, or less acidic juices can assist with managing GERD symptoms. For a comprehensive treatment plan that addresses your specific needs, consider reaching out to a Naturopathic Doctor at Annex Naturopathic Clinic.
What to Drink for Instant Heartburn Relief at Home?
Several concoctions can provide instant heartburn relief at home. Aloe vera juice is an effective remedy for easing heartburn, as it can soothe and reduce inflammation in the esophagus. Moreover, herbal teas such as chamomile or ginger tea can also provide instant heartburn relief by calming the stomach and reducing inflammation. However, these are temporary solutions and for long-term relief from GERD and heartburn, it's important to make necessary dietary and lifestyle changes under the guidance of a healthcare professional or a naturopathic doctor, like those at Annex Naturopathic Clinic.
---
Sources:
Locke, G. Richard III, et al. "Prevalence and clinical spectrum of gastroesophageal reflux: a population-based study in Olmsted County, Minnesota." Gastroenterology 112.5 (1997): 1448-1456.
El-Serag, Hashem B., et al. "Update on the epidemiology of gastro-oesophageal reflux disease: a systematic review." Gut 63.6 (2014): 871-880. [https://gut.bmj.com/content/63/6/871.short]
Vakil, Nimish, et al. "The Montreal definition and classification of gastroesophageal reflux disease: a global evidence-based consensus." The American journal of gastroenterology 101.8 (2006): 1900. [https://pubmed.ncbi.nlm.nih.gov/16928254/]
Zhang, Qiuli, et al. "Value of pH monitoring in patients with laryngeal symptoms: correlation with patient data, endoscopy, and treatment." Otolaryngology—Head and Neck Surgery 131.6 (2004): 773-778. [https://journals.sagepub.com/doi/abs/10.1016/j.otohns.2004.05.013]
Eherer, Andreas J., et al. "Effect of pantoprazole on the course of reflux-associated laryngitis: a placebo-controlled double-blind crossover study." Scandinavian journal of gastroenterology 37.5 (2002): 509-514. [https://www.tandfonline.com/doi/abs/10.1080/00365520252903124]
Chait, Marc M. "Gastroesophageal reflux disease: Important considerations for the older patients." World journal of gastrointestinal endoscopy 2.12 (2010): 388. [https://www.ncbi.nlm.nih.gov/pmc/articles/PMC3021430/]
Ness-Jensen, E., et al. "Weight loss and reduction in gastroesophageal reflux. A prospective population-based cohort study: the HUNT study." American journal of gastroenterology 107 (2012): 373. [https://pubmed.ncbi.nlm.nih.gov/22158004/]
Kahrilas, Peter J., et al. "American Gastroenterological Association Institute technical review on the management of gastroesophageal reflux disease." Gastroenterology 135.4 (2008): 1392-1413. [https://pubmed.ncbi.nlm.nih.gov/18789939/]
Jones, Roger, et al. "Gastro-oesophageal reflux disease in primary care in Europe: clinical presentation and endoscopic findings." European journal of general practice 2.4 (1996): 149-154. [https://www.tandfonline.com/doi/abs/10.3109/13814789609162105]
Katz, Philip O., et al. "Guidelines for the diagnosis and management of gastroesophageal reflux disease." The American journal of gastroenterology 108.3 (2013): 308. [https://pubmed.ncbi.nlm.nih.gov/23419381/]
El-Serag, Hashem B., et al. "Update on the epidemiology of gastro-oesophageal reflux disease: a systematic review." Gut 63.6 (2014): 871-880. [https://gut.bmj.com/content/63/6/871.short]
Borrelli, Francesca, et al. "Effect of ginger Zingiber officinale Roscoe on gastric motility and symptoms of functional dyspepsia." European journal of gastroenterology & hepatology 23.1 (2011): 14-21. [https://pubmed.ncbi.nlm.nih.gov/20829778/]
"Herbal Treatment for Gastrointestinal Diseases (Licorice)" – Journal of Evidence-Based Complementary & Alternative Medicine [https://journals.sagepub.com/doi/full/10.1177/2156587219875717]
Srivastava, Janmejai K, Eswar Shankar, and Sanjay Gupta. "Chamomile: A herbal medicine of the past with a bright future." Molecular medicine reports vol. 3,6 (2010): 895-901. [https://www.ncbi.nlm.nih.gov/pmc/articles/PMC2995283/]
Korterink, Judith J, et al. "Yoga therapy for abdominal pain-related functional gastrointestinal disorders in children: a randomized controlled trial." The Journal of pediatrics vol. 167,3 (2015): 603-12.e1. [https://pubmed.ncbi.nlm.nih.gov/26183001/]
Raveendra, K R, et al. "An Extract of Glycyrrhiza glabra (GutGard) Alleviates Symptoms of Functional Dyspepsia: A Randomized, Double-Blind, Placebo-Controlled Study." Evidence-based complementary and alternative medicine : eCAM vol. 2012 (2012): 216970. [https://www.ncbi.nlm.nih.gov/pmc/articles/PMC3123991/]