The change of seasons is here! This means every day is a constant battle of what coat to wear, whether you should bring an umbrella, and determining if that sniffle is due to allergies, or if you've caught the dreaded change of season cold.
The change of season is a common time when people tend to catch cold and flu bugs. The body has to keep up with and adjust to the fluctuating temperatures, weakening our immune responses to viruses in the air.
In Traditional Chinese Medicine (TCM), the lungs are responsible for BOTH temperature regulation as well as immune strength so when our lungs are busy regulating temperatures, they are not as focused on protecting the system from respiratory viruses.
So, of course, TCM came up with a herbal formulation that uses a specific combination of 4 "tonifying" (tones, strengthens, and nourishes the body tissues) herbs called Change of Season Soup that helps our bodies acclimatize to new temperatures, mainly through strengthening the lungs and boosting the immune system.
It contains the following herbs:
Codonopsis root (Dang Shen):This herb is thought to help tonify and strengthen energy and helps to build blood and nourish our body fluids.
Astragalus root (Huang Qi):  Astragalus helps strengthen our protective defences, strengthen energy, nourish the spleen, and tonify the blood and lungs
Dioscorea (Chinese yam) root (Shan Yao): Dioscorea is a herb which tonifies and balances the lungs and the kidneys.
Chinese Lycii berries (Gou Qi Zi):  Lycii berries is believed to strengthen the liver and the kidneys.
Use this soup during the change of seasons strengthen your immunity and prevent the respiratory illness.
Being a naturopathic clinic in Toronto, we package these herbs and sell them to the public. Likewise, you can grab them from your local trusted herbal medicine store (Herbie's Herbs at Queen and Bathurst or Kyu Shon Hong Co. Ltd. in Chinatown at 439 Dundas St. W).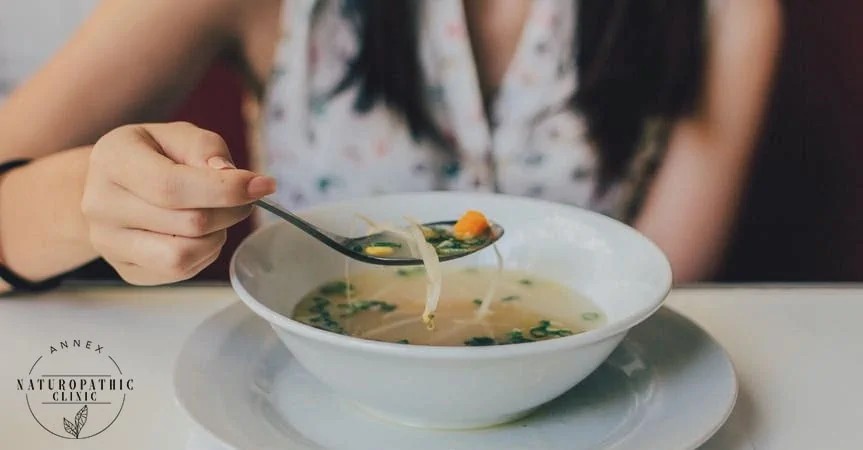 How to Make this Change of Season Soup Decoction
Fill a large stock pot with water (2-4L). Add the above herbs to the pot and place the lid on. Bring to a boil and simmer for 2-4 hours. If the water level boils down, add water to refill if necessary.  Using a slotted spoon, or strainer, remove the herbs from the pot.
Drink 1 cup of the decoction daily (you can reheat it daily), for 1 week (1/2 cup for children over 2 under 10). The soup has a slightly bitter taste – add a 1 tsp of honey if you don't like the taste, or use it as a base for chicken soup.
Enhance the immune boosting properties by combining this with a homemade bone-broth soup.
**note – herbal remedies should always be taken with caution. Please make sure you do not have allergies to these specific herbs.  This soup is used to boost immunity and therefore is used as a preventative to the cold and flu. If you are running a fever, do
not take this soup with the herbal ingredients.  Please consult with a medical professional familiar with herbal medicine if you have any concerns.
---