On the theme of cold and flu season, as a Toronto ND I thought it would be appropriate to talk about one of the most commonly used botanical remedies for viral and bacterial infections – Echinacea spp.
Echinacea is also one of the most researched herbs in the world, with much of the research centered around its effects on boosting immune health and killing off pathogens, which is why it's such a valuable herb during this season.
There are different types of Echinacea, with three species being the most commonly sold as medicine: Echinacea purpurea, Echinacea angustifolia, and Echinacea palladium.
Most of the research that supports the medicinal value of Echinacea is mainly centered around Echinacea angustifolia and Echinacea purpurea, and should be the type of Echinacea you should choose which looking for a good brand.
For the rest of the article, I will refer to Echinacea angustifolia and Echinacea purpurea when outlining the medicinal value of Echinacea spp.
Echinacea, also known by its descriptive name, Purple Cone Flower, is part of the Asteraceae (Composite) family, and Native to North America, mainly growing in the Western prairie states, such as Illinois, Nebraska, Missouri and Texas.1
The plant grows to about 2-3 feet high, blooms from June to August and reveals purple and rose petals.
Echinacea is a relatively new plant to botanical medicine, as it is rarely mentioned in texts older than 1850.
From there, the antibiotic/antiviral properties of Echinacea were described in medicinal writings as a "blood-purifying", being used for conditions such as ulcerated sore throats, internal abscesses, malarial fevers, cholera, and insect/reptile bites.1
These findings have paved the way for abundance of research supporting the effects of Echinacea in the treatment of infections.
Native American medicine mainly used this plant for topical infections, such as wounds, burns and insect bites.2
Parts Used
Root (some preparations use aerial parts as well)
How does Echinacea protect your body from viral and bacterial infections
The medicinal properties of Echinacea reveal that it has the best effect when used to PREVENT infection, and at the FIRST SIGNS of infection.
Echinacea directly repairs damaged tissue caused by the infection.
When a pathogen first infects a mucous membrane, such as the back of the throat, it will activate an enzyme called hyaluronidase, which breaks down our protective tissue and mucus, allowing the virus to enter the tissue and cause inflammation (and therefore pain).
Echinacea can prevent this process through inhibiting the hyaluronidase activity and by reinforcing the connective tissue, and preventing the pathogen to infiltrate the tissue infect.2,3
Echinacea boosts the immune system and reduces inflammation.3,4,5
One of the immune-stimulating mechanisms involve activating our macrophages, which are important for killing off pathogens and removing them and other cellular debris from the area.3,4,6
This process aids in reducing inflammation, preventing the spread of infection, and improving healing time.
Echinacea appears to enhance the innate immune system (our first line of defence) as well as reducing biochemicals produced by our bodies that stimulate inflammation, such as TNF-α, COX-1 and COX-2.6
Biochemicals in Echinacea responsible for these effects include alkamides and caffeic acid, and long sugars called polysacchrides.5,6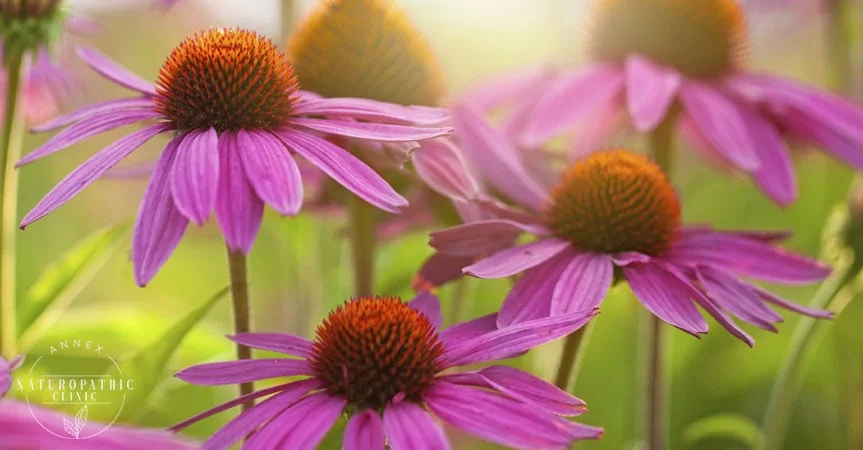 Does Echinacea Work?
In 2014, a Cochrane Review was published claiming that Echinacea did not appear to be effective in treating the common cold, and may have potential benefit in preventing the cold.7
While this may not be an encouraging statement on the value of Echinacea, the results from this study are more-so based on the lack available studies, rather than the inefficiency of the herb itself.
There is a plethora of pharmacological evidence that shows Echinacea boosting immune activity and exhibit anti-pathogenic qualities, but we don't seem to have enough well-designed clinical studies to prove its benefit – YET.
Bottom line is that we need more studies that prove Echinacea works.
Many physicians see Echinacea work in clinical practice.
Anecdotal evidence finds the dosing and timing of Echinacea is an important factor on whether it will work.
Based in its pharmacological profile, it makes sense to dose Echinacea at first signs of a cold, preventing the virus to spread.
Once a virus infects your body systemically, it's unlikely that anything at this point will prevent you from feeling sick.
At this point, the anti-inflammatory and immuno-stimulating effects of Echinacea can help by reducing the severity of the infection and preventing the worsening of the condition, such as being infected by a secondary pathogen (like other viruses and bacteria) causing conditions such as pneumonia.
Don't expect anything to "get rid" of the cold once you're sick – your body has to go through the process of ridding the body of the infection, which is the only way to recover, and Echinacea can help your body do exactly this.
Safety
Echinacea has been confirmed to be a safe herbal medicine in with minimal side effects and adverse event profile, which no toxicological concerns when ingested for up to 6 months.8,9,10
Echinacea used in children for cough and cold is generally well-tolerated, but can increase the risk of rash in children with atopic disease such as allergies and eczema and therefore should be used with caution.10 Children should only be given Echinacea on the advice from a qualified doctor who has strong training in herbal medicine.
Echinacea has also been found to be safe to use in pregnancy, with no increase in malformations and adverse effects in pregnancy, such as preterm birth, low birth weight,.10,11,12 However it's best recommended to limit use to only when one is actively sick, or about to get sick while pregnant, and to be recommended by a qualified doctor trained in herbal medicine.10,12
Those who have a Asteraceae family allergy should stay away from Echinacea, and long-term use of Echinacea is not recommended for those with autoimmune disease.
Echinacea is a useful plant for the prevention and treatment for the common cold.
When Echinacea works, not only does it prevent duration and severity of cold, it reduces the need to use other medications riddled with adverse effects and a worse toxicity profile such as acetominophen, antibiotics and anti-inflammatory drugs.
Not to mention that these pharmaceuticals do not enhance immune anti-viral activity like Echincea has been proven to do.
With the help of a qualified doctor experienced in herbal medicine, Echinacea can be a valuable tool in your cold-prevention and treatment kit.
---
References
King, J. King's American Dispensatory. Ohio Valley Company, 1898
Tragni al. Evidence from two classic irritation tests for an anti-inflammatory action of a natural extract, Echinacina B.Food Chem Toxicol. 1985 Feb;23(2):317-9.
Medical Herbalism: hoffman
Tubaro et. al. Anti-inflammatory activity of a polysaccharidic fraction of Echinacea angustifolia.J Pharm Pharmacol. 1987 Jul;39(7):567-9.
Aarland RC al Studies on phytochemical, antioxidant, anti-inflammatory, hypoglycaemic and antiproliferative activities of Echinacea purpurea and Echinacea angustifolia extracts.Pharm Biol. 2017 Dec;55(1):649-656.
Manayi A et. al. Echinacea purpurea: Pharmacology, phytochemistry and analysis methods.Pharmacogn Rev. 2015 Jan-Jun;9(17):63-72.
Karsch-Völk M et. al. Echinacea for preventing and treating the common cold.Cochrane Database Syst Rev. 2014 Feb 20;(2)
World Health Organization. WHO Monographs on Selected Medicinal Plants, Volume 1, World Health Organization, 1999
Jawad, M et. al. Safety and Efficacy Profile of Echinacea purpurea to Prevent Common Cold Episodes: A Randomized, Double-Blind, Placebo-Controlled Trial. Evid Based Complement Alternat Med. 2012; 2012: 841315
Ardjomand-Woelkart K, Bauer R. Review and Assessment of Medicinal Safety Data of Orally Used Echinacea Preparations.Planta Med. 2016 Jan;82(1-2):17-31.
Heitmann K al. Pregnancy outcomes after prenatal exposure to echinacea: the Norwegian Mother and Child Cohort Study.Eur J Clin Pharmacol. 2016 May;72(5):623-30.
Perri D. et. al. Safety and efficacy of echinacea (Echinacea angustafolia, e. purpurea and e. pallida) during pregnancy and lactation.Can J Clin Pharmacol. 2006 Fall;13(3):e262-7.
Gallo M, Sarkar M, Au W, Pietrzak K, Comas B, Smith M, Jaeger TV, Einarson A, Koren G (2000) Pregnancy outcome following gestational exposure to echinacea: a prospective controlled study. Arch Intern Med 160(20):3141–3143