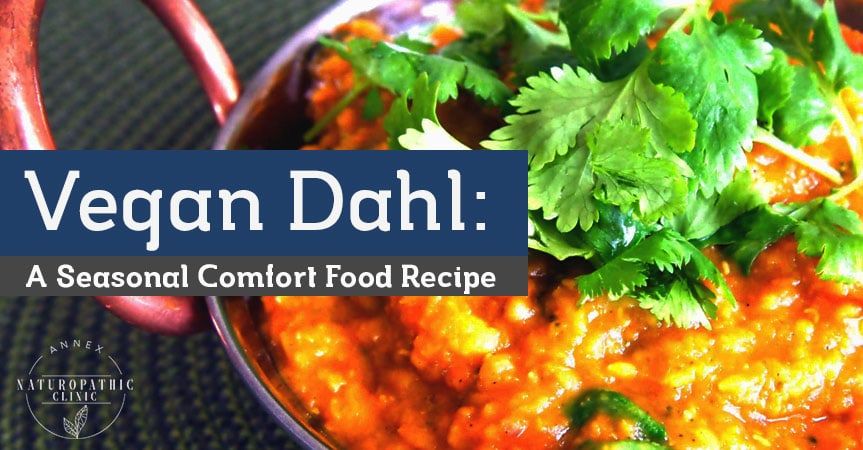 The change from hot to cold weather has me searching for comfort foods that will provide the feeling of warmth and energy.
As a N.D I'm regularly informing patients about healthy recipes and encouraging them to create a diet around the changing seasons.
One of my favourite spice palettes during the winter season is the warm, aromatic flavours of Indian cuisine –  likely because it's full of warming, sweet spices designed by nature to boost our metabolism, increase circulation and  strengthen digestion, all properties that we need to warm our bodies during the colder seasons.
Any warm recipe containing these spices will be a good choice for the upcoming winter.  
Dahl is essentially made up of lentils, which are packed with protein, B vitamins, fibre and iron, making this legume a super food, especially for vegetarians/vegans.  
Lentils are an amazing source of protein because it contains all but two of the amino acids (the building blocks of protein).  
Lentils are high in one particular amino acid, lysine, a great remedy for viral infections, handy during cold and flu season. 
Top this on a small bed of basmati rice, or enjoy with a few whole grain (non-GMO) crackers.  
Ingredients
3 tablespoons coconut oil (or whatever you have)
1 medium yellow onion
1 tablespoon fresh ginger, grated
4 garlic cloves, minced
2 cups of spinach or chopped kale
1 teaspoon of fine seasalt
1 cup dried red lentils
2 tablespoon tomato paste
4-5 cups water or veg broth
5 plum tomatoes, chopped
juice of 1 lime
1 cup lightly packed chopped fresh cilantro
Spice blend
2 teaspoon mustard seeds
1 teaspoon fenugreek seeds
1 teaspoon coriander seeds
1 teaspoon cumin seeds
6 whole cloves
4 cardamom pods
2 dried red chilies (seeds removed)
1/4 teaspoon ground cinnamon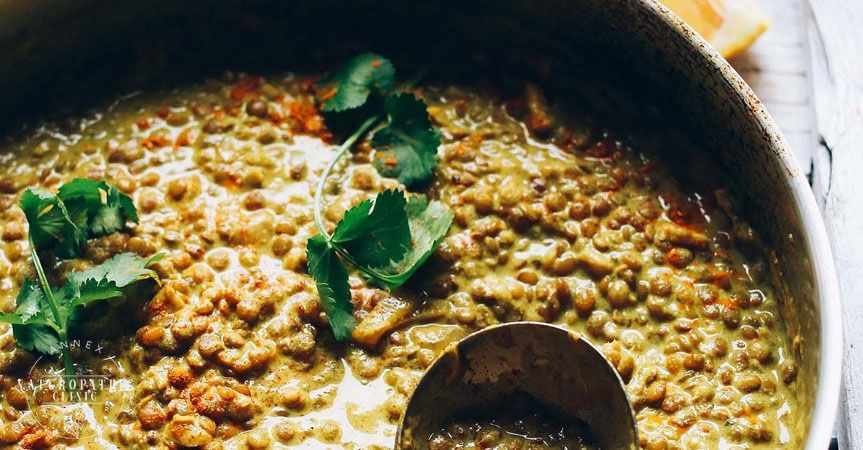 Directions
In a sauté pan over medium heat, toast the seeds (but not the dried red chili) for about 5 minutes, stirring frequently (make sure not to burn). Be prepare for a strong (but pleasant), spicy aroma.
Remove from pan and let cool. Transfer to coffee grinder, along with the dried red chili and cinnamon, and grind to a fine powder.
Over medium-high heat oil a soup pot, add onions and sauté for 5 minutes. Add garlic and ginger and sauté 5 more minutes. Add ground spices and salt, sauté for 3 more
Add 4 cups of water and stir to deglaze the pot. Add tomato paste and lentils. Bring to a boil then lower the heat a bit and simmer for 20 minutes.
Add the tomatoes, greens, lime juice and cilantro and more water if it looks to thick. Simmer 10 more minutes, or until lentils are completely tender.
Add extra salt as needed for taste
Some Tips to Cooking with Spices
You can buy all these spices at any bulk food store

–

store them in a dark cook place
Spices like ground cumin and coriander go rancid 6 months after they are ground up

–

that is why you should grind them yourself, rather than buying pre-ground versions

–

keep them in the refrigerator and use within 6 months
Toasting the seeds before grinding activates and releases the volatile oils in the seeds, producing the well-known aroma of Indian dishes
YOU NEED SALT for any dish that uses these spices

–

salt activates and brings out the flavours of other spices

…

without it you will be disappointed in the overall taste (add salt according to preferred taste

–

but not too much!)
---
If you're curious to learn more about this subject or would like to consult with one of our NDs feel free to book a visit or contact us.
Yours in Health,
Annex Naturopathic Clinic
800 Bathurst St Suite 301,
Toronto, ON M5R 3M8
-https://goo.gl/maps/uVRBvcyoUa62

Annex Naturopathic Clinic is a clinic in Toronto that offers integrative healthcare solutions from Drs. Marnie Luck, ND, and Tanya Lee, ND
---