Winter squashes and pumpkins are robust "fruits" that are harvested in the fall so we can use them throughout the winter.
Keeping them in a dark cool place will preserve these foods to give us nutrient-packed meals that are warming, healthy and delicious.
One of my favourite things to eat during the winter are winter squashes – particularly acorn squash, due to it's abundance in vegetable markets in Ontario and for it's sweet, buttery taste.
I use these in casseroles, bakes, mash them in place of white potato or simply bake them in the oven.
Acorn squash is a great source of low glycemic-load carbohydrates – this means that despite it being a source of carbohydrates, it won't spike your blood sugar (therefore insulin) to the extent other carbohydrates such as wheat-based carbohydrates (and other grains) will increase your blood sugars after eating.
They are also easier to digest than grains, which makes it suitable carbohydrate source for people who experience a lot of bloating and bowel movement problems.
Acorn squash is rich in antioxidant vitamins C and A (beta-carotene, hence the orange colour!), potassium (great for lowering high blood pressure) and a great source of fibre (valuble for those with diabetes and cardiovascular disease).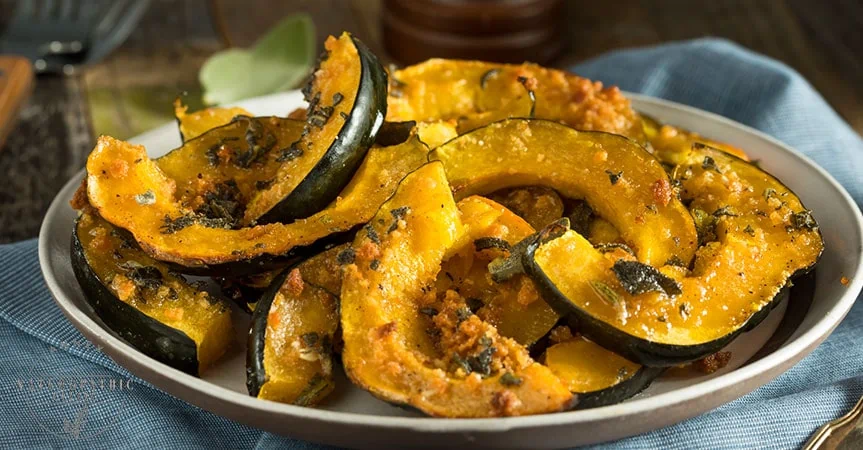 Ingredients:
I medium acorn squash
1 tbsp of grass-fed/organic butter (or olive oil)
1-2 cloves of garlic – minced
pinch of sea salt
pinch of dried rosemary
pinch of dried thyme
fresh cracked black pepper
Directions:
Preheat oven to 350 degrees F (175 degrees C).
Use a cookie sheet lined with parchment paper (or lightly oil the cookie sheet to prevent sticking) and place the acorn squash upside down (flesh side down). Once the oven is preheated, place the acorn squash in the oven and let it bake for about 30 minutes (it will be slightly soft)
In the meantime if using butter – lightly liquify the butter in a small pan over low heat with the minced garlic (don't overheat!), soon before (about 10 minutes before) you pull the squash out of the oven (no need to heat if you're using olive oil).
If you're using olive oil, combine the garlic with the olive oil when first placing the squash in to the oven to allow the garlic to infuse in to the oil for 30 mins
Pull the acorn squash out of the oven. Carefully turn the squash flesh side up, and generously brush the butter/olive oil and garlic mixture over the entire flesh surface of the squash. Make sure the garlic also makes it on to the flesh
Sprinkle salt, thyme and rosemary all over the flesh side of the acorn squash and place the squash back in to the oven and bake for another 30 minutes
After 30 minutes, pull the squash from the oven, season with freshly cracked black pepper, wait 5-10 minutes to allow the squash to cool and serve!