Hello, and Happy September!
As a naturopathic doctor in Toronto, seasonal shifts are factors that I take into account when helping patients develop healthy routines.
Theses seasonal shifts can't be ignored as they have a real effect on the body and the health of each individual.
As we say goodbye to summer, it's time to welcome the structure and seasonal shifts September brings.
At this time of year it can be difficult to:
1. Sleep
Prioritize restful sleep.
That means going to bed a little earlier, and saying no to that last episode on Netflix.
Waking up refreshed sets the stage for a great day.
Check out our top 5 tips for improving sleep quality to help you make the most of your time in bed.
2. Hydrate
Start off your day with a BIG glass of water. Aim for 2 litres throughout the day.
Not a big fan of water? Try putting lemon or cucumber slices in it for a little bit of flavour.
Remember – coffee and alcoholic beverages are dehydrating. Switch out that second cup of coffee for a big glass of water!
3. Meal Prep
Planning your meals ahead of time is definitely easier in theory than practice.
A good start to making is easy to meal plan for the week is thinking of your 3 favourite "go-to" meals, and making sure you have all the ingredients on hand.
Freeze leftovers in singles servings to be warmed up on days when you don't have time to cook.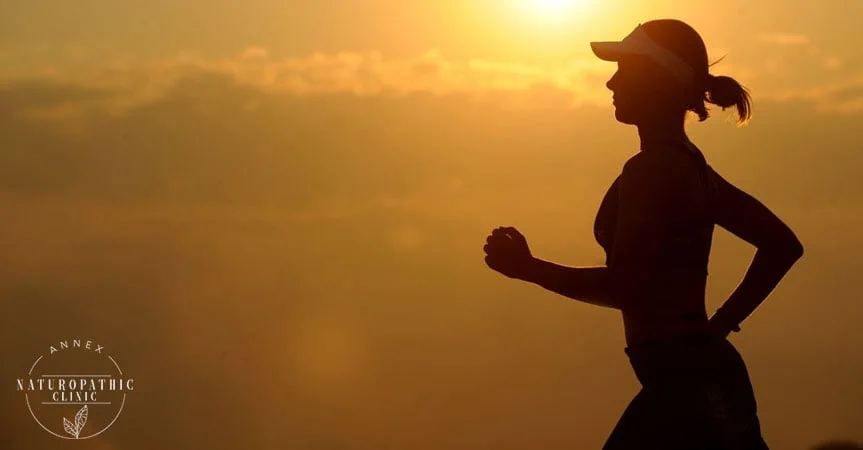 4. Exercise
Start with short and sweet when it comes to exercise.
A half hour at the gym or walking briskly is enough when you're getting back into the groove.
Schedule in your exercise at the beginning of the week and have your gym clothes ready the night before.
5. Set healthy boundaries with technology
Turn that gosh-darn phone off!Smartphones are very stimulating to the brain and can dysregulate the body's stress response.
Give your brain a break from your phone daily.
You'll have more time to tackle the other 4 items on this list!
Seek out professional help
For any reason you need some help, come see one of the Naturopathic Doctor's at Annex Naturopathic Clinic – they will help you figure out a gameplan together!
---